Chocolate No Bake Cookies
are a must have for our family during the holidays. Any time of year really if I am being completely honest. They are so easy to make the teens can do it themselves when they are in need of a sweet treat. This recipe makes a ton too, perfect for the gift giving season.
I have seen many many different recipes for Chocolate No Bake Cookies on the internet and I have tried a few of them to experiment. After lots of trial and error (lots of errors) I always resort back to the original recipe I was given about 25 years ago. No frills and no magic tricks to make them better. It just works! Here is how we have made our Chocolate no Bake Cookies for the last 25+ years …
Ingredients:
½ cup (1 stick) butter 2 cups granulated sugar ½ cup milk 4 tablespoons cocoa powder ½ cup peanut butter 2 teaspoons vanilla 3 cups quick-cooking oats
Directions:
In a medium saucepan, combine butter, sugar, milk and cocoa. Mix well and bring to a boil.  Boil for 2 minutes. Remove from heat and mix in peanut butter and vanilla until combined.
Stir in the oats.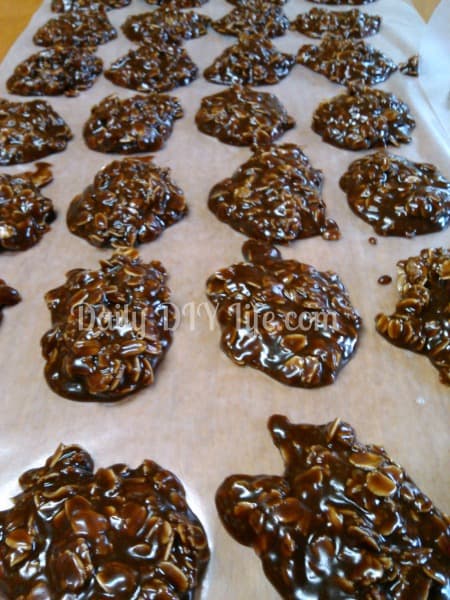 Drop by rounded spoonfuls onto a wax paper lined cookie sheet. Let cool completely and enjoy! I sure hope you have a chance to give this recipe a try for the Holidays this year. If you do, please let me know what you think I love to hear what others have to say.
---
More No-Bake Dessert Recipes
You May Also Like: 
Christmas Cookies: Peanut Butter Blossoms
The Easiest Peanut Butter Fudge
The Ultimate Guide to Hosting a Cookie Swap
---
Be sure to sign up for our
NEWSLETTER
to get all of our
Tuesday Tips
 ,  
Recipes
, and
Projects
right to your in box!
LIKE US ON FACEBOOK
or
FOLLOW US ON TWITTER
to be the first to know when we add new goodies!