When it comes to holiday decorating, adding elegant and personal touches to your decor doesn't have to be difficult or expensive. Using everyday household items that you probably already have paired with a stunning bouquet of beautiful fresh cut flowers, you can make this red white and blue DIY Patriotic Mason Jar Vase just in time for 4th of July.
---
I was lucky enough to find this gorgeous bouquet of fresh White Dendrobium Orchids from Pro Flowers. This post may also contain affiliate links. All opinions and comments are 100 % my own. For more details please see our
Disclosure Policy.
Decorating For The Holidays
With the fourth of July right around the corner, I wanted to add a touch of red white and blue to the table, but still keep that rustic farmhouse charm I am trying to achieve throughout the house. I don't know about you, but when i think farmhouse, i think mason jars
. Something about the thick sturdy canning glass adds just the right touch.
I decided not to paint the actual glass itself so I can change out the colors when the holidays change. I used inexpensive dry beans (navy beans take color nicely since they are already white), layered in red white and blue. Perfectly patriotic for the 4th of July. Here is how we made them…
DIY Patriotic Mason Jar Vase!
Materials needed:
1 large mason jar or canning jar
1 bag dry beans
Tube/Bud vase or empty water bottle
Fresh cut flowers – be sure to check out the gorgeous variety Pro Flowers has that are perfect for 4th of July.
Directions:
Wash and dry your Mason jars completely. If you are recycling another type of jar, you can see how we remove labels and residue easily
HERE
.
Divide the dry beans into 3 equal piles.
Working with one color at a time, pour the dry beans into a disposable storage bowl. Drizzle the beans with your craft paint, close the lid and give them a good tumble and shake.
Once the beans are covered with the paint to your liking, pour them out in a piece of cardboard in a single layer to dry completely.
Repeat with the other 2 colors.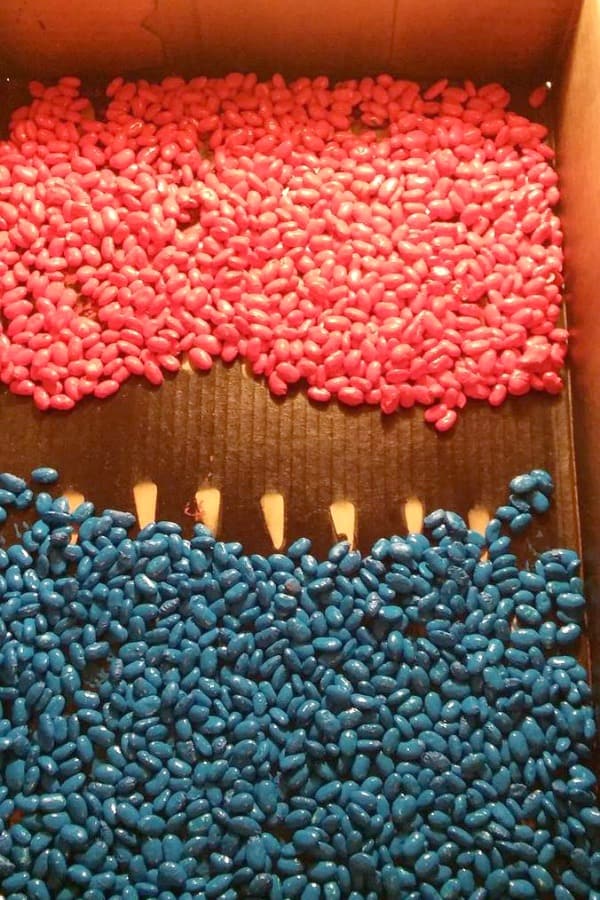 Acrylic paint dries pretty quickly, but I let them sit over night just to make sure they were cry.
Place a small piece of double sided sticky tape on the bottom of your water bottle and stick it to the inside of your mason jar. You can also use a dab of hot glue.
Carefully pour a layer of red beans between the glass of the mason jar and the water bottle. alternating red and white to mimic the stripes of the American flag. continue adding layers until you fill about 3/4 of the way up the jar. Once the red and white stripes are complete, finish off with the blue beans. Place a few white beans randomly in the blue for your "stars".
Fill the water bottle inside with fresh water and your beautiful fresh cut flowers.
One of the best reasons for adding color and holiday design to mason jars this way is that I can use the same jar over and over. Simply change out the colors for the next holiday, add some fresh cut flowers and you have a stunning tabletop bouquet for any occasion.
If you love fresh flowers as much as I do, be sure to stop over to Pro Flowers.com for a wide variety of beautiful flowers, plants, and goodies at a reasonable price. They deliver right to your door too, how much easier can it be?
Love mason jars? You may also love …..