It's time for a girls night!
This post is intended for an audience of adults age 21 and older. This shop has been compensated by Collective Bias, Inc. and Bacardi. All opinions are mine alone. #SignatureSips #CollectiveBias
I saw a meme on Facebook this week that I thought was pretty fitting for this time of year. "Winter is like a new pop star, cute and exciting at first then it just becomes annoying and needs to go away".
That is exactly how I feel about winters in January. The holidays have come and gone. The weather is brutal and dreary. If we let that take over our minds, it can be a bit depressing. Let's break out of the winter blues! Grab all of your girlfriends and invite them to a Break The Winter Blues Girls Night In Party!
With the right atmosphere, a few good snacks, and some time-saving tips, you can pull off a party that will wow your friends, and definitely break the winter blues!
Break The Winter Blues! Host A Girls Night In Party! – Pin It For Later!
Planning Your Party
Hosting a girls night in doesn't have to be extravagant, glitzy, or over the top. Unless you want it to be of course, then go for it! All you really need is a few great friends, a fun atmosphere, delicious snacks to nibble on, and fun, tasty drinks to share. Invite your best girlfriends over for a Beat The Winter Blues Girls Night In Party, turn on your favorite music and enjoy the company. Hosting the party in your home is so much more personal and relaxed. It is much easier to enjoy each other's company in a low-key environment.
Pick a date and time, then send out the invites. Once you have the time and place, all you need to do is set up.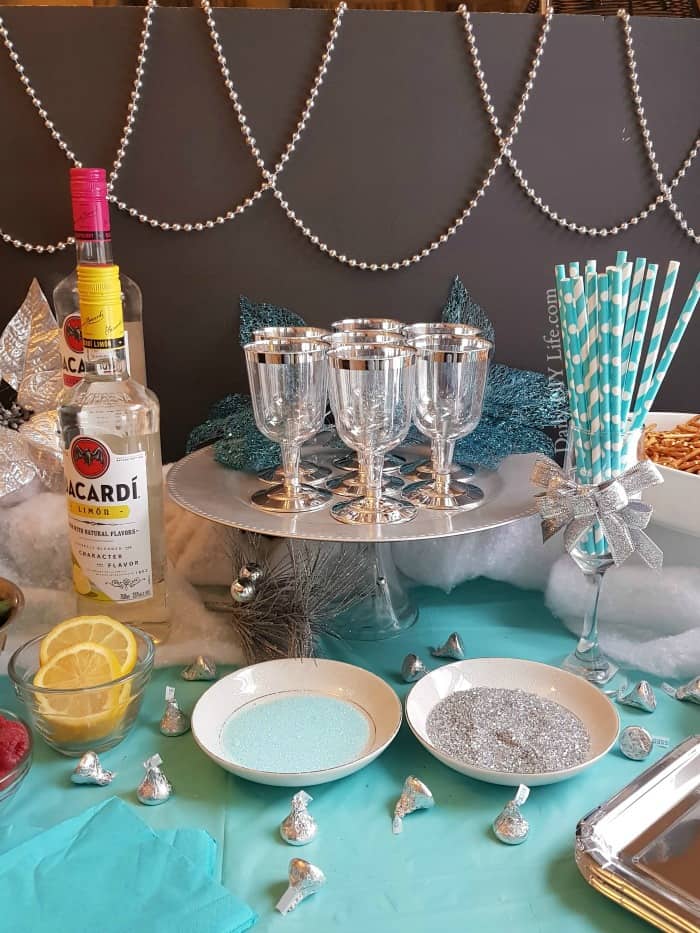 The Set Up
Don't overthink the setup process. Pick a place in your home where traffic can flow nicely. Where people can stop and chat, grab a bite to eat, and relax a bit.
We usually have our main party station in the kitchen/dining room area. We have a large island in the kitchen and a beautiful buffet in the dining room for something a bit more formal. As long as there is room for your guests to move around and a focal point for your party goods, you can't go wrong.
Start with your drinks. When hosting a pick-me-up party like Break The Winter Blues, you want something that is going to add a little fun to the party and mixes well with many different beverages. My go-to is always Bacardi Rum! Bacardi rum is not only a world favorite, it is what I always have on hand and ready for the next girls night. You can find many different flavors of Bacardi now, mixing the perfect drink has never been easier. We chose Bacardi Limon and Bacardi Raspberry. The flavors will mix perfectly with the beverages I chose, and are always great for an upbeat party.
Use fun exciting colors.
Bright colors will set the mood for your party. You want fun, vibrant colors that will add some spark to those cold dreary days. Bright blues and vibrant reds remind me of summer. Using gold or silver adds a bit of glam to any table. I say just let the sparkle shine, there can never be too much sparkle!
Pretty glassware and serving plates are also a fun touch. Don't break out the crystal just yet, you can set a beautiful table with a quick trip to your local dollar store. The wine glasses that I used were only $1 for four glasses. They have the shimmer of silver, and best of all they are disposable. No one wants to wash dishes after a party anyway.
Tip: Rub a lemon wedge around the edge of the glass and dip the rim in colored sugar crystals for even more sparkle and a bit of sweetness. You could even set this up so your party guests can decorate their own glasses. Interactive parties are so popular right now!
Mixing your drinks.
When it comes to planning my mixed drinks with the Bacardi rum, I have a little secret weapon. Wendy's Signature Beverages are the perfect base for fun, fruity, exciting mixed drinks. I discovered the signature beverages only available at Wendy's over the holidays when we stopped for dinner after a busy day of shopping.
The Strawberry Lemonade is a perfect balance of tart and sweet. It is delicious! You can taste right away that it is made with real strawberries and real lemons. We also had the All Natural Lemonade, also made with real lemons. The taste is as real as it gets!
I used both the Strawberry Lemonade and the All Natural Lemonade for my girls night in party. The flavors were just right with the Bacardi Limon and Bacardi Raspberry. If you want to step up your game, try adding something a bit more exotic to your drink with pomelo juice.
Find your closest Wendy's Location HERE, and grab the new Signature Drinks for your next girls night-in party!
Party food
You can't forget about the food! Quick and easy food ideas will save you time and the headache of trying to pull it all together. While you are at Wendy's, pick up a few of their tasty menu items. A juicy Dave's Single® will pair perfectly with any beverage you serve. We did add an extra slice of cheese to our burger once we got home. You can never have too much cheese! Spicy Chicken Sandwich, Chili, or crispy chicken tenders are all great options for party snacks. Add in a few tasty appetizers and a bowl of salty snacks and that is all you need for a great party.
Strawberry Lemonade with Bacardi Limon!
Follow these quick and easy tips and you are in for a fabulous and fun girls night in! Say bye-bye to those winter blues and hello to happy cheery nights!
If you love this post be sure to PIN IT using the image below!