We all know the saying, One woman's trash is another woman's treasure! That certainly was the case when I found this beaten, worn, well abused old dresser on a local buy sell trade facebook group. Her husband wanted to use it for firewood, she was determined to make a few bucks off of it. Now normally I am a bargaining type of gal when it comes to shopping in those groups. This time, I knew I was getting a heck of a steal with this piece. $10 bucks! Yes, you read that right, TEN dollars for this beautiful solid piece. She might not be the apple of anyone's eye right at the moment, but I knew once I got my hands and my paint brush on her she would shine bright for all to see! Boy, was I right. I have to admit, this is my absolute favorite piece that I have done to date. This beaten old dresser finds a permanent place in our home as a Beautiful Dining Room Buffet.
If you have been here before, you know that we recently moved from an apartment to a house just a few months ago. Oddly enough, the apartment had much more storage than the new place does. I was on the look out for a few furniture pieces for extra storage, and a place to hide all my craft supplies and blog photo props. I knew what I wanted, it was just a matter of finding it, and for the right price …. cheap!
*This post contains affiliate links for your convenience. Which means if you click on a link, I will earn a small commission at no extra charge to you. For full details, please see our Disclosure Policy!
When I saw this beaten and well-worn piece come across my facebook feed, I knew i had to have it. Yes, it was a dresser, and I was looking for a buffet style piece, but this would totally work in the dining room as a "buffet". It was long, had plenty of drawers, even a cabinet to hide things in. This was the one, and for TEN dollars, I simply could not pass it up. We picked it up the next day, and I was ready to get started.
I gave it a good wipe down with hot soapy water with a little bleach added to it for an extra good clean. Since I was using Pure & Original Chalk Type Paint, it didn't need much prep. I had some paint left over from the Office Desk Makeover I did just a few months back. There were a few rough areas that needed a little extra attention, so I did decide to give it a light sanding from top to bottom, just to even out the finish. There were too many scuffs and dings in the wood, and I wanted it to be smooth.
Once the sanding was done, I removed the cabinet door and the drawers inside the cabinet. One was broken. Instead of trying to repair the drawers, I replaced them with inexpensive baskets. These are not my favorite, but they will do for now until I find ones that fit perfectly that I love. Take a look at what I did with one of the old drawers!! I couldn't just throw it away.
After one coat of Kilz Original Primer and one coat of Pure & Original Aged Paper, I was already seeing a complete transformation! P&O paint does not require the use of a primer, but since I was going from black to white, and I wanted to be sure all the yuk was covered up well, I went ahead and used the primer. I didn't want to waste this gorgeous paint either, it's one of my absolute favorites!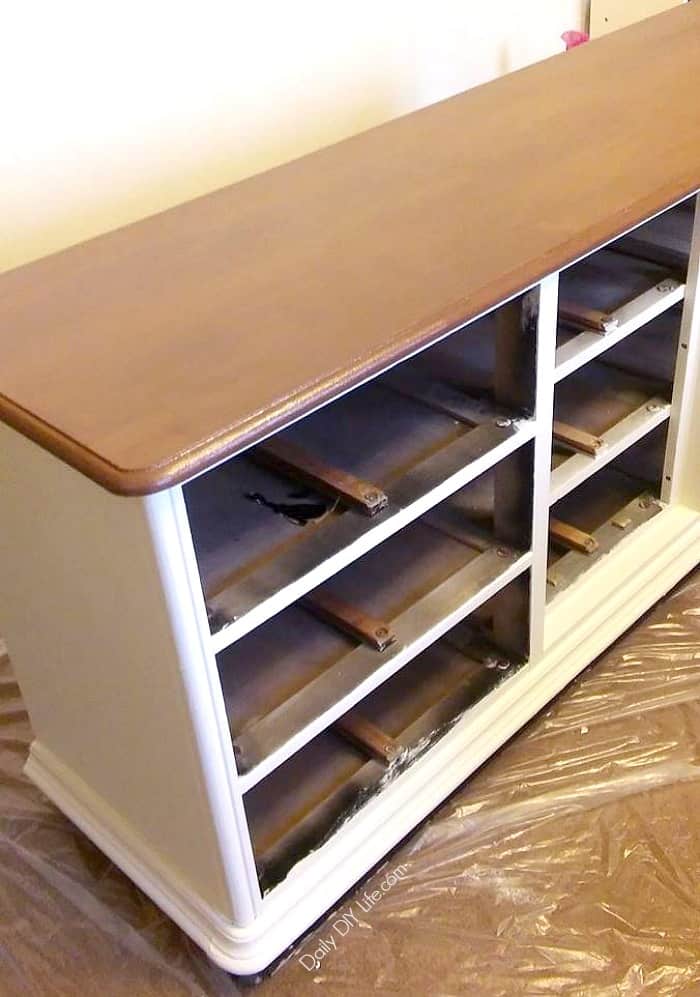 For a contrasting look, I gave the top a coat of "True Walnut" from Better Homes and Gardens. From a distance, it looks like wood! Since there was no way I was sanding down to the wood (I am a lazy furniture flipper!), paint was the next best thing.
The original hardware was just fine for this Beautiful Dining Room Buffet! I did give them a fresh coat of black spray paint just to bring a little life back to them. I don't think it needs much more, do you?
Here she is in all her fresh new glory! Ladies and gentlemen, my Beautiful Dining Room Buffet! Who knew that old ugly black dresser could turn into something so stunning? This is one "yard sale find" I am so glad I didn't pass up. The smooth off-white finish, accented with brown and black fits my style perfectly. Some may say it is a little boring, and that's fine. I just wanted some neutral tones in the dining room this time. I did accent it with  the DIY Drop Cloth Framed Mirror up above, and all my other flea market finds to give it a little character.
Just look at the before and after! It doesn't even look like the same piece. I promise you that it is.
Have you ever found a piece that was simple beaten and worn so much that someone thought it was trash, but you knew it had potential? I would love to hear about it. Leave a comment below!
Thanks so much for stopping by to check out the newest member of our family! I mean, my newest furniture piece. She really is a beauty!