I'll be honest, leftover fried chicken recipes are some of the most creative I've come across. Take your chicken leftovers from blah to amazing with a few tidbits of inspiration.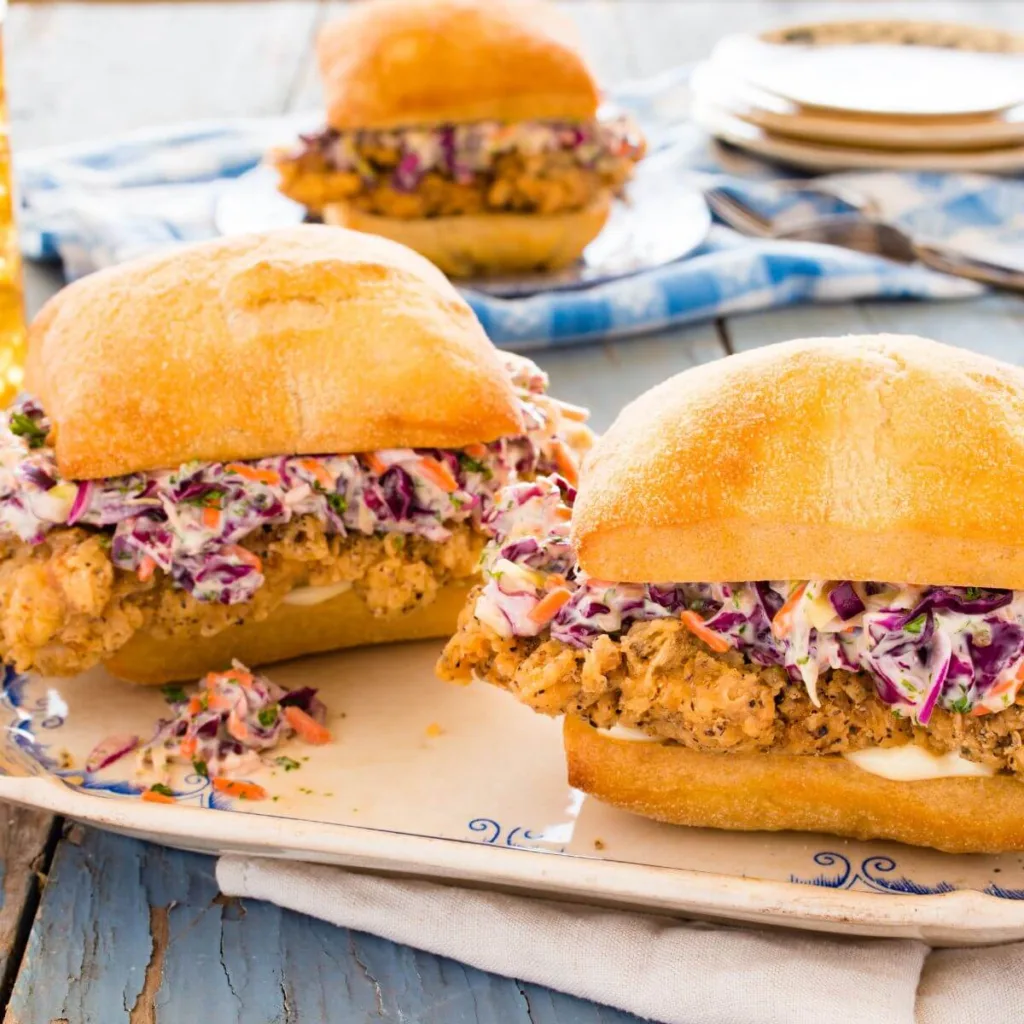 So when you find yourself with too many pieces of leftover fried chicken, you can go ahead and explore our extensive list below for inspiration. In my experience, sometimes day two dishes are even better.
Keeping Fried Chicken From Getting Soggy
The key to making any of these delicious next-day recipes below is to ensure from the get-go that your fried chicken doesn't get soggy when storing it. (You also want to make sure you're reheating it properly. But we'll cover that later.)
Follow the steps below to ensure your fried chicken doesn't get soggy in the fridge. It will set you up for fried chicken success on day #2!
Store in an airtight container. This is crucial! Theoretically, refrigerators are dry environments. But in reality, that isn't always the case. To counteract this, use an airtight container with a lid or a sealable plastic bag to store the fried chicken.
You also want to avoid stacking the chicken pieces on top of each other. This can cause them to become soggy. Instead, try placing a sheet of parchment paper between the layers of chicken.
Use a moisture-absorbing material. To help absorb any excess moisture, place a layer of paper towels, parchment paper, or a clean cloth at the bottom of the container. This will help prevent the fried chicken from becoming soggy.
Store on a rack in the refrigerator. Place the airtight container in the refrigerator. It is best to consume the leftovers within 3-4 days.
Salad Recipes Using Leftover Fried Chicken
Ok, so maybe pasta salad doesn't qualify as "salad," but close enough, right? Spice up your pasta salad game by adding leftover fried chicken, buffalo sauce, and a variety of veggies for a zesty dish. We've also got an excellent recipe for Outback ranch dressing that will round out this incredible dish.
There are good chicken Caesar salads, and then there are the bland versions. Using fried chicken, as opposed to grilled, is usually the difference. So transform your leftover fried chicken into a delicious Caesar salad by combining it with lettuce, parmesan cheese, and Caesar dressing.
Mix your leftover fried chicken with black beans, corn, tomatoes, and a zesty dressing for a flavorful Southwestern-inspired salad. Try a homemade Southwest salad dressing to really up your game.
Give your leftover fried chicken an Asian twist by tossing it with fresh veggies, mandarin oranges, and an Asian-inspired dressing. Drizzle a tad of teriyaki sauce on top for added flavor.
There are picnics and then there are PICNICS! Combine your leftover fried chicken with crisp veggies and a tangy dressing for a hearty and satisfying salad. Try smoked corn on the cob or redneck caviar as a side.
Sandwich Recipes Using Leftover Fried Chicken
Combine leftover fried chicken with a mix of veggies, cheese, and dressing for a satisfying salad perfect for lunch or a light dinner. It may be a classic, but that doesn't mean it's boring. Drizzle your sandwich with either our boom boom sauce or our copycat bitchin' sauce for some added spice.
Stack fried chicken with bacon, lettuce, tomato, and mayonnaise between toasted bread slices. If you're looking for an alternative for mayo, try a schmear of McDonald's breakfast sauce or Lawson's chip dip. It might sound unorthodox but trust me, it's delicious.
Place your fried chicken on a soft bun with lettuce, tomato, and your choice of sauce for a simple yet satisfying meal.
Top fried chicken with marinara sauce, mozzarella cheese, and parmesan cheese, then bake until bubbly.
Combine fried chicken with buffalo sauce, lettuce, and blue cheese or ranch dressing in a flour tortilla.
Layer fried chicken, sliced avocado, lettuce, and tomato on your favorite bread with a spread of mayo or your preferred sauce.
Press fried chicken, mozzarella cheese, and pesto sauce between slices of crusty bread in a panini press or on a griddle.
Appetizers Using Leftover Fried Chicken
Fill lettuce leaves with shredded fried chicken, diced veggies, and a tangy sauce for a light appetizer. Add a sprinkling of green onions for extra flavor and color.
Top tortilla chips with shredded fried chicken, cheese, and your favorite nacho toppings, then bake until the cheese is melted.
Mix shredded fried chicken with cream cheese, hot sauce, and blue cheese, then bake and serve with celery sticks or chips.
Stuff jalapeno peppers with a mixture of fried chicken, cream cheese, and cheddar cheese, then bake until bubbly.
Roll shredded fried chicken and cheese in flour tortillas, then bake or fry until crispy.
More Recipes Using Leftover Fried Chicken
Fill a tortilla with shredded fried chicken, cheese, and your choice of veggies, then grill until crispy and melty.
Add shredded fried chicken to a pot of simmering chicken broth with noodles, carrots, celery, and onions for a comforting bowl of soup.
Mix fried chicken, broccoli, and cooked rice with cream of chicken soup and cheese, then bake until bubbly.
Combine chopped fried chicken with mixed veggies and cream of chicken soup, then top with a pie crust and bake.
Toss chopped fried chicken with cooked pasta and Alfredo sauce for a rich and creamy dish.
Fill tortillas with shredded fried chicken, lettuce, tomatoes, and your favorite taco toppings for a fun and tasty meal.
Spread BBQ sauce on pizza dough, then top with shredded fried chicken, red onions, and mozzarella cheese before baking.
Roll shredded fried chicken and cheese in tortillas, top with enchilada sauce, and bake until bubbly.
Reheat the chicken and serve it on crispy waffles with a drizzle of syrup or honey for a sweet and savory brunch option.
Combine fried chicken with a creamy mushroom sauce and serve over egg noodles for a filling and delicious meal.
Sauté fried chicken with peppers and onions, then serve in warm tortillas with your choice of toppings. You can actually make this entire dish in your air fryer! Slice and reheat your fried chicken per our instructions below and make these delicious Chipotle fajita veggies.
Toss fried chicken with cooked pasta, pesto sauce, and cherry tomatoes for a quick and flavorful dish.
Fill jumbo pasta shells with a mixture of fried chicken, spinach, and ricotta cheese, then bake in marinara sauce.
Baked potatoes are so delicious and actually very healthy. Cube up your leftover tender chicken and add cheese, fresh herbs like scallions or green onions, and a dollop of sour cream.
Leftover Fried Chicken FAQs
How long can I store leftover fried chicken in the fridge?
Leftover fried chicken can be safely stored in the fridge for 3 to 4 days when properly covered and refrigerated. Make sure you use an airtight container.
Can I freeze leftover fried chicken?
Yes, leftover fried chicken can be frozen for up to 4 months. Be sure to wrap it tightly in plastic wrap or aluminum foil and store it in a freezer-safe container or bag. After thawing, you'll want to heat your chicken in the oven or for best results, in an air fryer.
How do I reheat leftover fried chicken?
To reheat leftover fried chicken, preheat your oven to 375°F (190°C), and place the chicken on a baking sheet. Bake for 15-20 minutes or until the chicken is hot and crispy.
Can I reheat fried chicken in an air fryer?
Yes, you can reheat fried chicken in an air fryer. In fact, it's one of the best methods for reheating fried chicken, as it helps maintain the crispy texture while heating the chicken evenly. Here are quick and easy steps:
Preheat the air fryer: Set the air fryer to 375°F (190°C) and let it preheat for a few minutes.
Arrange the chicken pieces: Place the fried chicken pieces in a single layer in the air fryer basket, making sure they aren't touching or overlapping. This ensures even heat distribution and proper air circulation.
Reheat the chicken: Cook the fried chicken in the air fryer for 10-15 minutes, depending on the size and thickness of the pieces. Be sure to check the chicken halfway through and flip the pieces if needed for even heating.
Check for desired crispiness: The chicken should be crispy on the outside and heated through on the inside. You can use a meat thermometer to check the internal temperature, which should reach at least 165°F (74°C).
Let the chicken rest: Remove it from the air fryer and rest for a couple of minutes before serving. This allows the juices to redistribute, ensuring a more flavorful and tender chicken.
Can I use leftover rotisserie chicken in these recipes?
Absolutely! Most of these recipes can easily be adapted to use leftover rotisserie chicken. Just be aware that the flavor and texture may be slightly different.
Are there any other ways to use leftover fried chicken?
The possibilities are endless! You can experiment with different dishes and ingredients to create unique, delicious meals using your leftover fried chicken. Be creative and have fun in the kitchen!
Print Recipe
Leftover Fried Chicken Recipes
These leftover fried chicken recipes will help you get the most out of your crispy, savory fried chicken leftovers. Yum!
Ingredients
Salad Recipes Using Leftover Fried Chicken
Buffalo Chicken Pasta Salad

Fried Chicken Caesar Salad

Southwestern Chicken Salad

Asian Chicken Salad

Picnic Fried Chicken Salad
Sandwich Recipes Using Leftover Fried Chicken
Classic Fried Chicken Salad

Smoked Paprika Fried Chicken Club Sandwich

Popeyes Chicken Sandwich

Chicken Parmesan Sandwich

Buffalo Chicken Wrap

Bacon, Avocado, and Chicken Sandwich

Chicken Pesto Panini
Appetizer Recipes Using Leftover Fried Chicken
Fried Chicken Lettuce Wraps

Chicken Nachos

Buffalo Chicken Dip

Chicken and Cheese Stuffed Jalapenos

Chicken Taquitos
More Recipes Using Leftover Fried Chicken
Chicken Quesadillas

Chicken Pot Pie

Crack Chicken Noodle Soup

Chicken and Broccoli Casserole

Chicken Alfredo Pasta

Fried Chicken Tacos

BBQ Chicken Pizza

Chicken and Cheese Enchiladas

Southern Fried Chicken and Waffles

Fried Chicken Stroganoff

Chicken Fajitas

Chicken Pesto Pasta

Chicken and Spinach Stuffed Shells

Fried Chicken Stuffed Baked Potatoes
Instructions
Gather ingredients and cook.
Have questions or suggestions about these fried chicken recipes? Leave them in the comments below.