This shop has been compensated by Collective Bias, Inc. and its advertiser. All opinions are mine alone. #DesignedMega #CollectiveBias
I can not believe just how fast these summer months go by! My grandma always said the older you get the faster they go, boy was she right! Around here, we are preparing to get ready to go back to school in about a month. With two teenage boys in high school, and both my husband and I working full time, our morning bathroom situation is beyond crazy. Since we only have the one bathroom, a tiny one at that, we need to find ways to make it work best for all of us. That usually involves me getting up at 4:30 a.m, but besides that, organization and the right essentials are the key. I have put together my favorite 5 Ways To Eliminate Clutter in a Tiny Bathroom to show you how we stay organized to make mornings as stress-free as possible.
5 Ways To Eliminate Clutter in a Tiny Bathroom – Pin it for later!
Having a small bathroom can sometimes be a challenge. Especially sharing this bathroom with 3 very unorganized and messy men. The biggest key to organization in any space is having the proper places to put things. That is why these 5 Ways To Eliminate Clutter all focus on storage and space saving ideas. We are in the process of redecorating our bathroom, so this was the perfect time for me to shop for, create, and maximize what little space we do have. Let's get to it, shall we?
Tip #1 Keep everyday essentials together. Using mason jars or other decorative jars, store items like cotton swabs, razors, and cotton balls in arms reach and together. This way there is no rummaging through cabinets or drawers to find just one thing.
I found this cool wooden magazine rack at the thrift store for just $1.99. A fresh coat of paint, a wall hanging kit and some cool vintage mason jars make this the perfect solution to store those everyday items. Be sure to sign up for our newsletter if you want to see exactly how we transformed this later this week.
Tip #2 Plastic storage containers are a girls best friend in any room of the house. In the bathroom, I use this particular plastic storage container to hold my girly stuff. Makeup, hair accessories, hair brushes, the things I use on an everyday basis. I know right where they are, and the boys know this is mom's storage box. No razors, fingernail clippers or shaving cream in here.
Tip#3 Store the bigger items up and off the counter. Your medicine cabinet or under the sink is perfect for those larger items. Most shelves are adjustable so you can leave room for actual medication on the top shelf, up and away from small hands. Keeping the larger items such as hair gel, hair spray, deodorant on the lower shelf for easy access.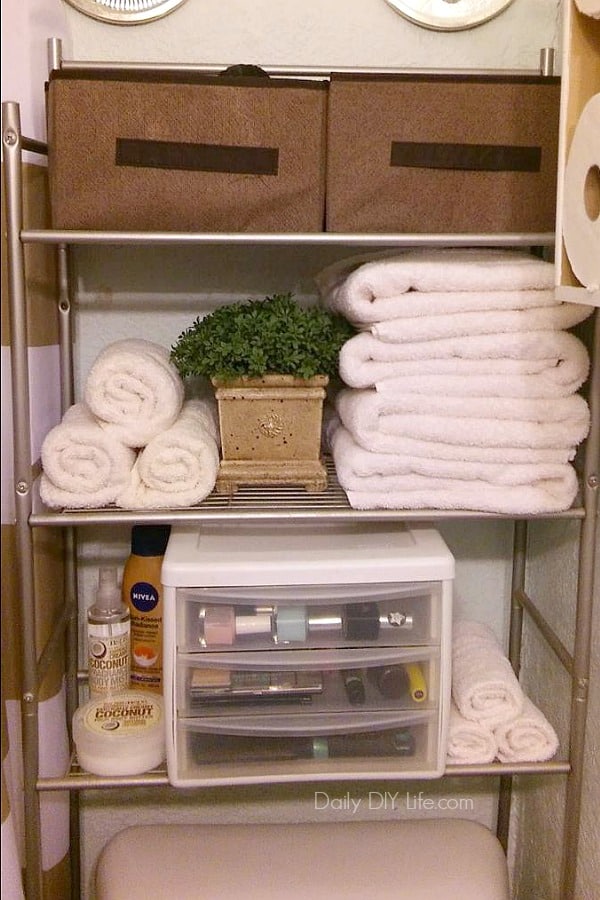 Tip #4 Over the toilet storage can be used to maximize a small space and create the perfect area for towels and bath linens if you are without a linen closet separate from the bathroom. Use decorative baskets to keep things like your hair dryer, hair straightener etc. hidden from plain sight. This will add some color to your tiny bathroom and they look great on the shelf too. We actually found ours at Target a few years ago on clearance.
Tip #5 A  place to store your toilet tissue that is up and off the floor is essential in a tiny bathroom. We built this custom storage unit (detailed photos below) using a drawer from and old dresser we just refinished. (Psst. don't forget to sign up for the newsletter so you don't miss this one! It's a fantastic transformation.) We eliminated the drawers from one section of the dresser. I really didn't want to throw them away, I knew I could use them for something.
When I came home from Target with the Quilted Northern Ultra Soft & Strong® (Mega Rolls), I knew I had to create a space for these rolls. Have you bought these yet? They are 4 rolls in 1, 4x more sheets per roll, and they are designed to give you more. With 3 men in the house, that is a win in my book!
I know I just told you about my toilet paper needs, but let's be real here, that is one of the biggest most purchased items for any bathroom tiny or large on an everyday basis. Since we are all friends here, there is nothing wrong with a little personal sharing, am I right?

Want to see what all the hub-bub is about? Stop by your local Target store, look for the end cap display for the Quilted Northern.
You could also sign up for the Target Subscription service and have it delivered right to your door. Saves time and money! Make sure to add this Target Cartwheel offer to save on your next purchase of Quilted Northern Ultra Soft & Strong Mega Rolls!
Our bathroom is almost complete. Using these 5 Ways To Eliminate Clutter in a Tiny Bathroom helps us to keep our bathroom clutter free and stay organized.  This makes things go so much smoother in the morning for all of us. Now if we could only figure out a way to have 2 … or 4 … separate showers in there we would be golden.
Like the Quilted Northern storage box? Here is how it came together…
Step 1. Give the drawer a light sanding to remove any old paint and any flaws in the wood.
Step 2. Apply 1 coat of paint primer. I used Kilz Original because that is what I had. Let Dry completely.
Step 3. Apply 1 or 2 coats of your favorite paint color. We used antique white and warm caramel brown to match the shower curtain.
Step 4. rough up the edges if you are looking for a worn or farmhouse look.
Step 5. Add a picture hanging sawtooth bracket to the back for hanging.
Step 6. Stock it full with  Quilted Northern Ultra Soft & Strong® Mega Rolls
---
Enter for the chance to win a $50 Target Gift Card(TM)!
#DesignedMega Quilted Northern Sweepstakes