Hey guys! I am super excited to share today's post with you all. This month I had the pleasure of joining The Fab Furniture Flippin' Contest for the very first time. I will admit, I didn't know what to expect or how well I would do, but I certainly love a good challenge. I was thrilled when I found out the sponsor for the month of April was Pure & Original Paints and the theme was Pure Colors, Original Elegance. Before this fantastic contest, I had never heard of Pure & Original paints. I had also never worked with chalk paint before either. To say I was overly excited to try this wonderful product is an understatement.
Contestants were given free product to try in exchange for their contest entry and an honest review. This post contains affiliate links for Pure & Original Paint. Which means if a purchase is made through an affiliate link, I will receive a small commission at no extra cost to you. All statements and opinions are 100% my own. To read more please see our full Disclosure Policy. 
About our sponsor:
Pure & Original is a professional high-quality paint containing only natural pigments. The paints are produced to the highest standards of craftsmanship for more than 50 years. All paints are manufactured with natural pigments by using natural materials and commodities. Please visit Pure & Original website for available products.
Now for the fun part!
A few years ago I picked up this oh so drab, oh so dated kitchen table for just a few dollars from a local Buy Sell Trade group on Facebook. I already had my heart set on making this ugly duckling my office desk, I was just unsure how exactly I wanted to do it. As some of you know, my office "corner" is in my kitchen, and when it comes to the theme of my kitchen I have changed my mind at least 3 times. Here are the 3 phases this "desk" has gone through before finding its forever paint color!
The "beach" theme. I removed just one of the drop leaf sides on the table. Gave it a thick coat of white paint. and painted the legs blue. It was UGLY, but not as ugly as it was when I bought it. This I could live with for now.
The next phase was the "faux wood" I tried to mimick the look of wood using brown craft paper, mod podge, and a little paint. It really looked pretty good at this stage, I neglected to complete the project which made the paper peel up and scratch easily. I may try this technique on another piece at some point. It was pretty interesting.

Fast forward to today! I now have a beautiful rose colored desk with no drop leaf sides that I am very happy to have in my kitchen office.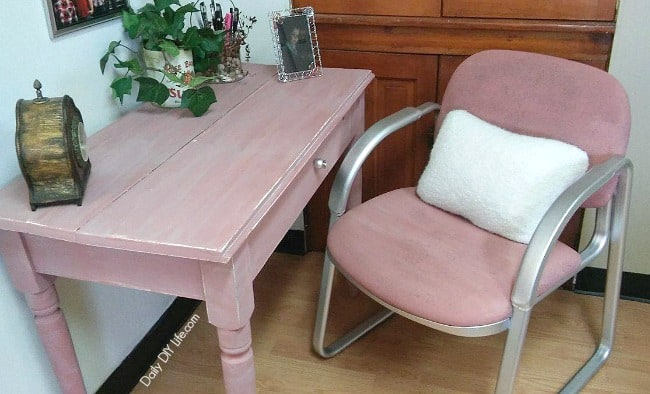 Since Pure & Original Classico Chalk paint does not require a primer or a sealant, this was the perfect paint for this project. I did lightly sand the top of the desk after removing the paper strips. I just wanted to be sure all of the mod podge was off and the top was even.
I selected Aged Paper and Courtly Rose for my 2 paint choices. I was originally going for an antique white look with rose-colored accents.  Once I saw the courtly rose paint, I immediately changed my mind. It was beautiful!
Since there was no primer used, I applied 2 coats of the aged paper paint, which I thinned just slightly with water. It covered the blue (and the black) on the legs perfectly and dried very quick between coats. At this point it was screaming for some color, don't you think?
The courtly rose paint was thinned a bit more than the aged paper. Close to half paint half water. I had it pretty thin. It only needed ONE coat of the rose paint to completely cover every inch of the white. I really thought I would need 2 coats, but it went on smooth and streak free… awesome!
Once the desk was completely dry (I left it overnight to be safe), I gave it a bit of a white washed look. Using a little bit of aged paper (maybe a Tablespoon) and lots of water (about 1/4 cup), I brushed on small streaks of white and wiped it off right away before it had a chance to dry.
*Tip: When wiping off the paint, wipe in the direction of the wood grain for a more natural look. Work in a small area at a time so the paint doesn't have a chance to dry before wiping.
Of course, I had to take the sander to the edges to show off some of the white underneath and add a bit of distress to the piece. Gives it a little more charm I think.
A wooden bead, a quick coat of silver spray paint and this beautiful button were added to the front for that little touch of elegance I was looking for. Something about the old (distressed) with the new (shiny elegant button) makes this piece complete for me.

Once I set the desk up in my "corner office", the desk chair stuck out like a sore thumb. So the most logical thing to do was paint it the same gorgeous rose color as the desk. The chalk paint went on like a dream, even to fabric! One coat of aged paper and 2 coats of courtly rose almost completely covered the ugly brown and black pattern on the chair.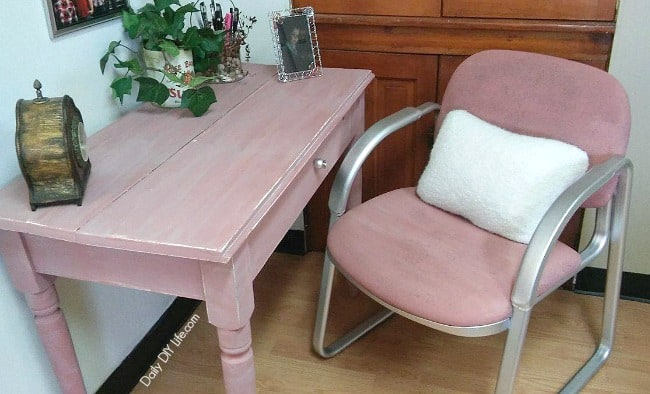 I taped off the fabric and gave it 2 coats of silver spray paint to match the knob on the desk and viola! A matching desk and chair set perfect for any corner office … In a kitchen that is!
If furniture makeovers make you drool as much as me, be sure to stop by the hosts' pages for more great ideas and inspiration.
To see all the amazing entries for this months contest you can visit any of the hosts' blog below!
Carrie @ Thirty Eighth Street
Stacy @ Anastasia Vintage
Want to know more about The Fab Furniture Flippin' Contest? Send a quick email to [email protected]
---
A few of my sweetest blogging friends also entered in the conest with me. Please stop by their blogs and show them a little love! They all did an AMAAAAZING job! Just look at the transformations!
Michelle @ Michelle James Designs
Carolann @ Sassy Townhouse Living
Anj @ Makin' My Apt A Home
china hutch goes glam with Pure & Original paint – Makin My Apt A Home
Sue @ Housekaboodle