An Adorable Rustic Plaid Painted Mason Jar just in time for fall! Handpainted and colorful, this fun mason jar craft will look great where ever you put it. Use it as a vase for flowers, or in the center of your holiday table. The possibilities are endless.
Over the next few months, I will be collaborating with some incredibly talented bloggers to bring you the best mason jar crafts around! This month our theme is one of my favorites …FALL! There are 8 incredible Fall Mason Jar posts this month. You can see each one at the bottom of this post. Be sure to stop by and visit their blogs, and learn how to make each of the wonderful projects. Don't forget to sign up for our newsletter so you can be the first to know when the new Mason Jar projects are ready each month! 
This post contains affiliate links. Which means if you click on a link and a purchase is made, I will earn a small commision at no extra cost to you. For more details, please see our Disclosure Policy. 
Like many of you, I am a huge fan of mason jar crafts. I still use my Whimsical Luminaries on my porch in the summertime. This post is all about fall. Fall decorating doesn't have to be over the top or expensive. A few mason jars, some paint, and pretty fall flowers are all you will need to make your space come alive. Fortunately, it is easier than you might think. Here is how we did it. 
Supplies Needed: 
Directions:
Paint your mason jar with 1 – 2 coats of chalk paint. Let it dry completely
Create, weed, and adhere your vinyl stencil to the mason jar. I used 631 vinyl
for my decal. The pumpkin was a free SVG I found on my favorite SVG site Love SVG. 
Cover the entire mason jar with 2 – 3 coats of white paint. If your chalk paint is a dark color like mine, you will need multiple coats of spray paint to cover it up.
With the lighter orange color, paint vertical stripes evenly spaced around your mason jar. Don't take too much time making them perfect, this adds to the rustic, whimsy feel of fall. 
Next paint horizontal stripes evenly spaced around the mason jar with the same light orange paint. Try to keep your lines evenly spaced or you will end up giving the bottom a solid coat of orange paint as I have above. My stripes got a little bit too crooked for even the rustic look. 
Using the darker orange paint, paint squares where the two lines meet as shown above.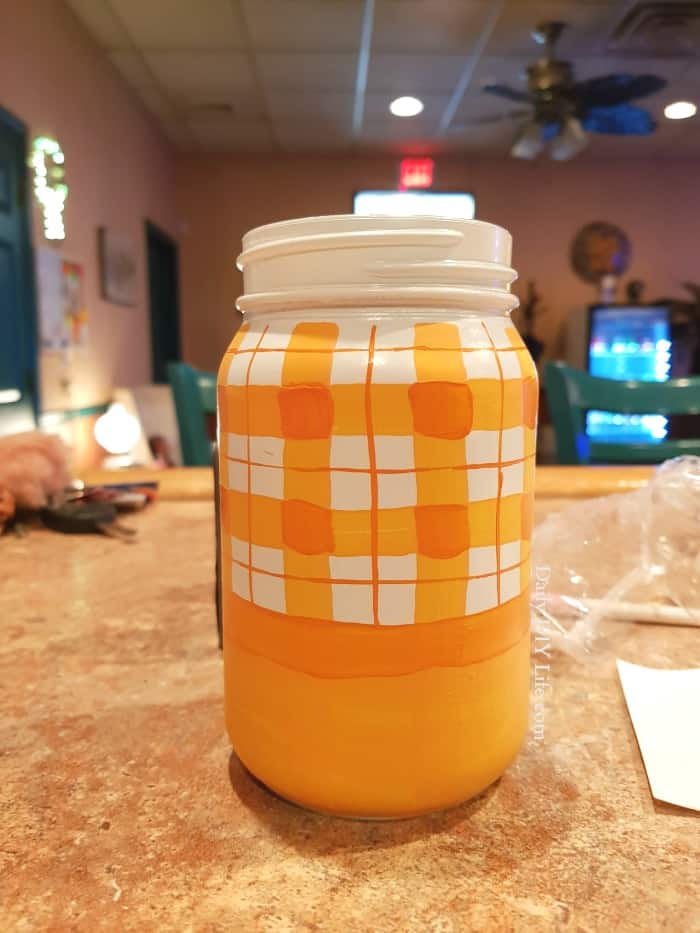 Using a thin line brush, add a thin stripe of the darker orange between each line going both horizontal and vertical.
Once your paint is completely dry, peel away the vinyl decal. Touch up any paint that needs it, or outline the entire design with a contrasting color. Add some jute around the rim with a simple bow to complete the look. 
I really enjoyed painting this jar. Even though it may not be perfect, I love the way it came out. This will look great right in the center of the table right through the Thanksgiving holiday. The entire process took less than an afternoon to do, which includes the wait time for the spray paint to dry.
8 Incredible Fall Mason Jar Crafts
As promised, here are 8 Beautiful Fall Mason Jar Crafts! Be sure to stop by each blog to check out each incredible project. 
Orange Buffalo Check Painted Mason Jar from Weekend Craft • Fall Mason Jar Craft from Red Cottage Chronicles • Apple Sugar Scrub from Happy Go Lucky • How to Make a Wooden Mason Jar from Create & Babble • Painted Plaid Mason Jar For Fall from Daily DIY Life  • Easy To Make Mr & Mrs. Scarecrow Mason Jar from Our Crafty Mom • Fall Leaf Mason Jar from Creative Ramblings • Fall Mason Jar Hanging Bird Feeder from Michelle James Designs
If you love this post be sure to PIN IT for later using the image below! 
If you're still looking for more crafts, check out a few of our favorite paint-technique crafts here.