Creating Easy Fall Decor to decorate your home this season is a fun, inexpensive way to add in some new pieces. Custom made pieces that you can create very quickly with a little help from your Cricut and a few other supplies you can find right at your local Dollar Tree.
Easy Fall Decor Using Your Cricut – Pin It For Later!
Craft & Create With Cricut Monthly Challenge!
This adorable, fun Easy Fall Decor Piece is a part of the monthly Craft & Create With Cricut Challenge. Each month a group of very talented bloggers creates incredible projects using their Cricut cutting machines. Each month has a theme, and this month happens to be my favorite .. FALL! You can see all of the beautiful projects at the bottom of this post. Be sure to stop by and say hello, and check out each of the creative creations.
This post contains affiliate links. That means if you click on a link within this post and a purchase is made, we will receive a small commission at no extra cost to you. For more details, see our Disclosure Policy.
I know it is only August, and the heat is still scorching outside. With the fall theme for this month's challenge, I was pretty excited to pull out all of my fall decor and start decorating. Since I inherited a fireplace this year, I wanted to add something simple but cute for the center of the mantel. Cricut to the rescue!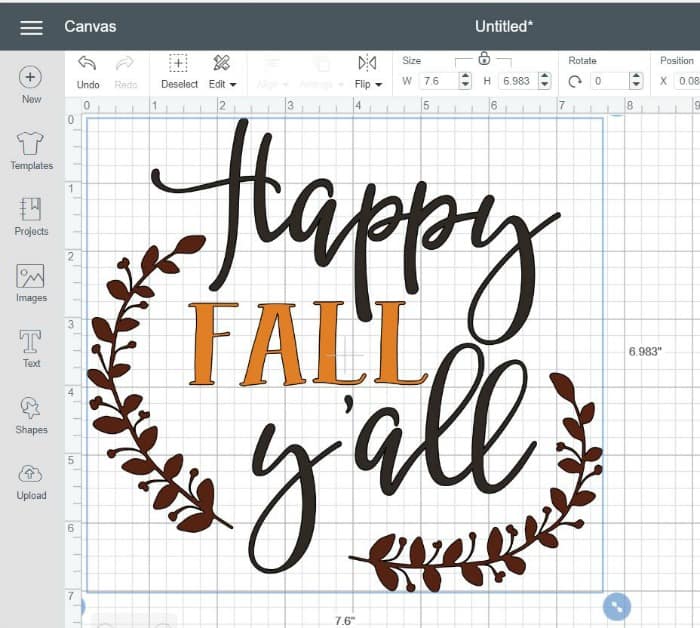 I found the perfect SVG file at my favorite site Love SVG. I used the Happy Fall Y'all SVG. It was simple, yet pretty. Perfect for the center of the charger I wanted to use. I found the charger at Dollar Tree (similar charger on Amazon.com
). They only had silver or gold at the time, but I wanted green to match my dining room. Rustoleum makes the perfect shade of green to match. It is Satin Eden
After I created, cut, and weeded the image using 631 (non-permanent) vinyl
, I placed it right in the center of the clean charger. I did wipe it down with rubbing alcohol first to remove any debris.
Once the design was in place, I gave the charger two light coats of the Satin Eden Rustoleum
spray paint. When it was completely dry (I waited almost 24 hours), peel up your vinyl sticker using your weeding tool. Go slow! Even though the paint says it is great for plastic, some peeling may occur.
How NOT To Do It
I did try peeling up the vinyl sticker after just an hour or so, it took off A LOT of the paint. I don't recommend doing that. A friend of mine suggested peeling it up while the paint was still wet, I did not try this, but if anyone does, I would love to hear the results.
After the vinyl is removed the gold from the charger shows right through. I am loving the look of the green and gold, perfect colors for fall.
Add a few fall silk flowers
(you can also find these at the Dollar Tree) and fall embellishments to the side, and you have a completed Easy Fall Decor Piece. Perfect for your mantel, or buffet table display. Best of all, it only costs a few dollars to make and can be made in less than a day.
Have you made any fun projects for fall using your Cricut
? I would love to hear about them in the comments below.
As promised, here are seven incredible Fall Cricut Projects made by some of my favorite bloggers. Be sure to check them all out, you are sure to find inspiration for your own projects from their beautiful work.
Fall Embroidery Hoop Wreath from Weekend Craft • DIY Fall Porch Sign from Cookies Coffee and Crafts • Easy DIY Fall Sign Upright and Caffeinated • Felt Flower Fall Wreath from Create & Babble • Easy Fall Decor from Daily DIY Life • Autumn Wood Banner from the Inspiration Vault • Pumpkin Stuffie from The How-To Home