This Quick and Easy Fall Banner can be made in minutes and will add the perfect touch of Fall to your mantel or decorative shelves. Keep it neutral, or add lots of fun Fall colors. Either way, it will be a beautiful addition to any decor.
Quick & Easy Fall Banner – Pin It For Later!
Follow Daily DIY Life on Pinterest!
This post is part of the monthly Craft & Create With Cricut Challenge! Our theme this month is Fall Cricut Crafts. Stay tuned to the end of this post to see all 9 adorable Fall Cricut crafts from some very talented bloggers.
Decorating With Your Cricut
When it comes to decorating the house in the Fall months, I always go all out with Halloween and Fall decor combined. After Halloween, I take away the BOO Jars and Witches Hats and leave just the Fall stuff out. This year, I am ashamed to admit I skipped the Halloween decor and went straight to Fall.
Eliminating the Halloween decor left a few spots around the house looking pretty bland, so I decided to pull out my Cricut and see what I could make to fill in those gaps.
The Painted Fall Charger that I made last month is displayed front and center on the buffet. That left just the fireplace mantel that needed a little attention. In less than 30 minutes, I had this super cute Easy Fall Banner put together and hung across the mantel. It was the finishing touch that is needed to bring everything together.
This post contains affiliate links for your convenience. That means that if you click on a link in this post and a purchase is made, I will receive a small commission at no extra cost to you. For more details, see our Disclosure Policy.
Quick & Easy Fall Banner
Supplies
Directions
In Design Space, find and create your favorite leaf shapes. There are many to choose from if you have the Cricut Access Monthly Subscription. Adjust the images to the size you prefer, and cut them out using your Cricut Explore Air 2.
Cutting Tip
For intricate cuts like the center of the leaves, I like to set my dial to light cardstock instead of regular cardstock. The cuts seem to be more precise, and less likely to rip the cardstock paper.
Ink The Edges
Once your images are cut, use your favorite ink to go around the edges of each cutout. I used orange and green to add some Fall color to the off-white paper.
I like the way it smudges a little inside the edge. The two colors together look really nice and compliment the fall decor nicely.
Assemble Your Banner
Once you have your leaves finished, and your Pom-Poms made (use THIS tutorial for Pom-Poms) all you need to do is assemble the banner on the twine. Measure the area you want your banner to hang and cut your twine to size. Don't forget to add a little extra for the overhang on the sides.
Evenly space out the pom-poms and the paper leaves. You can tie the pom-poms right to the twine, and use a dab of hot glue to adhere the paper leaves to the twine.
That is all there is to creating your Quick and Easy Fall Banner! You can make this project in less than 30 minutes. That includes making the pom-poms. I would love to hear how you decorate for Fall. If you try this project, please drop me a note in the comments.
Craft and Create With Cricut!
As promised, here are NINE beautiful Fall Cricut Crafts for you to try! I can't wait to make them all.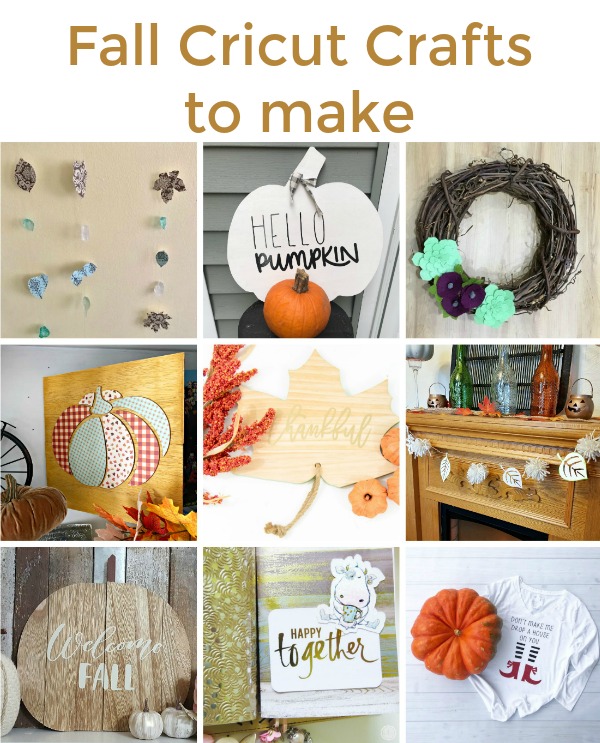 Fall Paper Leaf Wall Hanging / Wooden Pumpkin for Fall- Larger Than Mat Cricut / Felt Flower Grapevine Wreath / Chipboard Pumpkin / Wooden Fall Leaf customized with Cricut / Quick & Easy Fall Banner / Welcome Fall Wood Pumpkin Sign / How to Cut Die Cuts for Your Planner / Halloween T-Shirt
PIN IT!
If you love this project, don't forget to PIN IT for later!