My husband is a huge Taco Bell fan! The teens and I not so much. But there is one thing on the menu that we just love, and that is the loaded potato grillers. Since Taco Bell is not very close to where we live and we had a craving for our favorite loaded grillers, we decided to make up our own for lunch. I love making a copycat recipe at home, you decide what goes in them. How much or how little of everything is completely in your hands. Which can also make a recipe healthier than what you may get at a fast food restaurant. If you are also a fan, you will love our version of Taco Bell Loaded Potato Grillers.
Ingredients:
6 – 8 flour tortillas
5 medium baking potatoes
8 slices cheddar cheese
1 package Oscar Mayer REAL bacon bits
1 tsp oregano
1 tsp salt
1/2 tsp pepper
1 tsp onion powder
4 Tbs vegetable oil (seperated) for frying
sour cream and salsa (optional)
 Directions: 
Wash and poke holes with a fork in the potatoes. Microwave them on high 8 minutes. Turning once half way through. Let them cool enough to handle. Dice the potatoes into small bite size pieces.
In a medium skillet heat 2 Tbs oil. Add the potatoes, salt, pepper, oregano and onion powder. Fry the potatoes until they are softened with a nice golden brown crust on all edges. Stirring often.
Once the potatoes are cooked, you can assemble your loaded griller with what ever you like. We chose the traditional potatoes, cheese and bacon.  Keeping the sour cream on the side since the teens don't care for it.
Fill the tortillas and wrap like a burrito. Fold the ends in first then roll the sides over each other.
Heat 2 Tbs oil in a frying pan. Place the wrapped potato grillers in the pan folded side down. Brown the tortilla on both sides. This will melt the cheese and heat everything together nicely. Serve with your favorite condiments.
This reminds me of loaded potato skins all wrapped up in a neat little tortilla package. The teens love them, and the fact that it takes less time to make than the 25 minute drive to taco bell and back makes me one happy mom.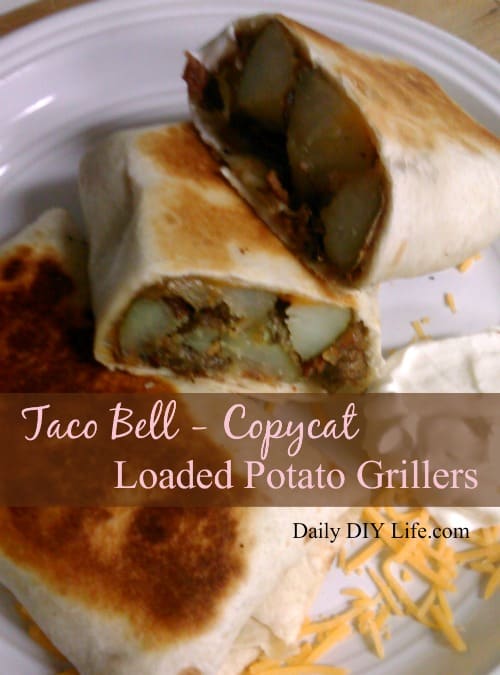 You can put anything you like in the tortilla grillers. Chicken, cheese and jalapenos are next on my list.
What would you add to yours?