This shop has been compensated by Collective Bias, INC. and The Coca-Cola Company, all opinions are mine alone. #DunkinatGiantEagle #CollectiveBias
When it comes to Breakfast On The Go, these bacon egg & cheese pinwheels and an Ice Cold Dunkin' Donuts coffee will get your day started right! Crazy hectic mornings are a common occurrence around our house. Now that the oldest teen has finished school, there are three of us starting our work day, and the youngest teen starting his school day. Finding something quick and easy yet satisfying to keep us running is very important. A satisfying breakfast on the go and an ice cold Dunkin' Donuts coffee is what we reach for.
Breakfast On The Go! Bacon Egg & Cheese Pinwheels – Pin it for later!
Make ahead breakfast dishes are one of my favorite things to put together. Something I can make, wrap up and keep in the freezer is perfect for all of our busy schedules. These Bacon Egg & Cheese pinwheels are super fast to make and freeze perfectly everytime. Simply pop one in the toaster oven for 4 – 6 minutes, and your breakfast is not only portable but delicious and a great way to start your day.
The only thing I love more than a quick breakfast on the go is the perfect cup of coffee. If there is one thing you should know about me is that I am a coffee addict! When it comes to coffee, I like it any way I can get it. Hot or iced, strong and sweet! I am sure this comes from living in Massachusetts for most of my life, where Dunkin' Donuts was literally on every street corner. Now that I have moved to West Virginia, I don't have that amazing luxury. We have lived here for four years, and we just now got our first Dunkin' Donuts a few towns over. I gotta tell you that was like Christmas morning for me. I was there on opening day and many times since.
Since we are not always able to get to the Dunkin' Donuts store as often as we would like, we discovered the single serve Dunkin' Donuts bottled iced coffee at our local Giant Eagle. These 13.7 ozs. bottles of smooth, flavorful iced coffee are the perfect pick me up in the morning to get our day started. Since they come in FOUR different flavors (Regular, Espresso, French Vanilla & Mocha) we can all have our favorites any time of day to keep us running. After all, America Runs on Dunkin'!
You can find the new Dunkin' Donuts Bottled Iced Coffee at your local Giant Eagle Store (See Store Locations Here!). They are located in the same aisle as other single serve beverages on the shelf, not in the refrigerated section.
Now that you know where you can pick up your own Dunkin' Donuts Bottled Iced Coffee, how about a great breakfast to go along with it?
Bacon Egg & Cheese Breakfast Pinwheels – Breakfast On The Go
Ingredients:
1 tube Prepackaged Crescent Roll Sheets (you can use regular crescent rolls, just be sure to pinch the seems closed)
3 Eggs Scrambled
1/2 Cup Crumbled Bacon
1 cups Shredded Cheddar Cheese
Directions:
Unroll the crescent roll sheet.
Down the center, spread out your scrambled eggs. Top with crumbled bacon and about 3/4 of the cheese.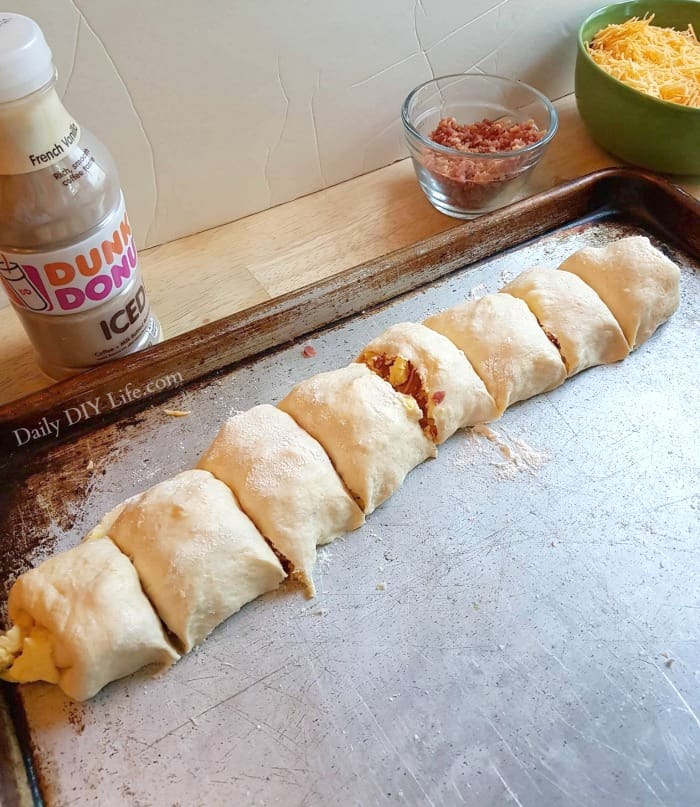 From the long side, roll up the dough and slice evenly into 8 pieces.
Place cut side down on an ungreased baking sheet.
Top each one with the remaining cheese.
Bake in a 350-degree oven for 8 – 10 minutes or until golden brown and the cheese is melted.
Serve warm, or wrap tightly in plastic wrap and freeze.
To reheat frozen pinwheels, pop them in the toaster oven for 4 – 6 minutes, or defrost and microwave for 30 – 60 seconds.
Not a fan of bacon? WHAT?! That is ok, we do not judge (ok, maybe we do a little but that's ok we still love ya!) You can omit the meat altogether, or replace the bacon with crumbled sausage. Either way, you have a satisfying and hearty breakfast perfect for those busy mornings.
This recipe is perfect for a crowd also. This weekend, I took it to a brunch event. Instead of rolling them into pinwheels, I did a Bacon Egg & Cheese Breakfast Braid. Place your bacon egg and cheese down the center of your dough, cut slits at an angle down both sides. Fold the dough over the filling alternating sides, sealing both ends. Bake in a 350-degree oven for 10-12 minutes.
This was a huge hit. I got 7 or 8 good size slices out of one braid. Adding it to the list to make again for sure.
If you like this recipe, you will also love our other favorite breakfast on the go ideas!