Everyone knows that a good burger is incomplete without the savory allium flavor of onions, but what is the best onion for burgers? This humble root vegetable can be prepared in many ways to add depth to any dish instantly. 
However, there are hundreds of varieties of onions out there. And each variety is capable of imparting a uniquely delicious umami flavor within your beef patty.
When it comes to onions, most burger lovers are interested in two things only texture and taste. If these two conditions are met, we will likely forgive even the sloppiest presentations. (Because aren't they the most delicious?)
Out of all the different types of onions to exist, the culinary world (of hamburger eaters) has acknowledged 8 types as the best onions for burgers.
Let's find out which varieties of onions you need to achieve a perfect combination of crunchy, soft, savory, sweet, pungent, and even mild flavors. We'll also explore how to prepare onions in ways that will take our burger to the next level.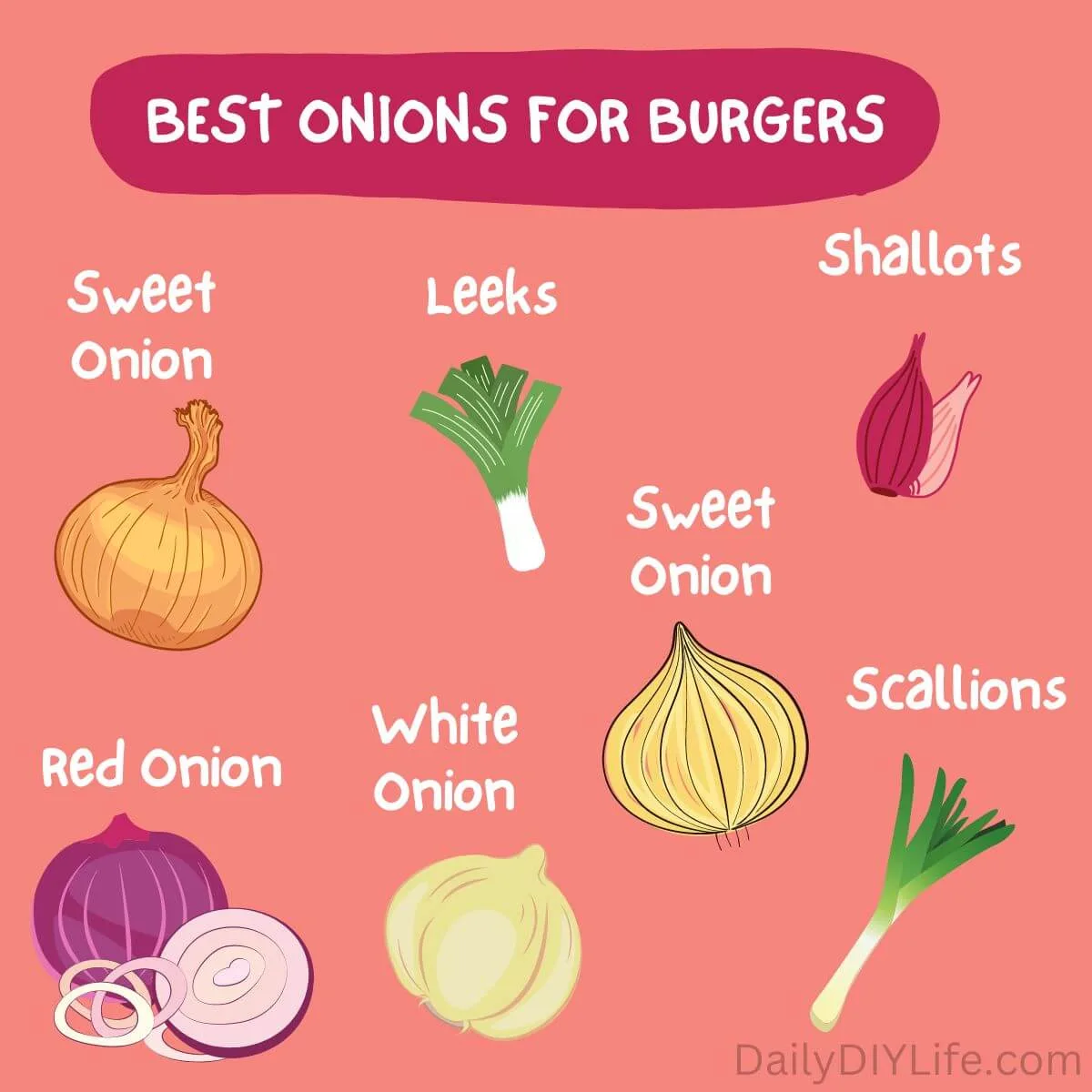 The 8 Best Onions for Burgers (Ranked by Flavor Profile)
Onions are great sources of vitamin c, folate, vitamin B6 and potassium. They also contain quercetin, which is a potent flavonoid that prevents inflammation. It also lowers cholesterol levels within the body.
In addition to the wonderful health benefits onions provide, their role as a food seasoning is unmatched in the culinary world. Especially for us burger lovers!
Here are the best onions to pair with burgers and the best ways to prepare them:
Yellow, White and Red Onions
Yellow, white, and red onions are the three most common species of onions. These types of onions appear to be very dense on the outside, yet they are approximately 1.7% fiber, 9% carbohydrates, and 89% water.
Yellow Onions
Out of the three, yellow onions, also known as 'brown onions', are the most widely available type of cooking onion. They have a yellow/brown papery skin, and are highly durable. Yellow onions last up to six weeks if stored in your pantry and around two months if refrigerated.
They have the highest sulphur content out of all the existing varieties of onions. As a result, raw yellow onions are more pungent in taste and aroma. However, when cooked, they become slightly sweet and mild in flavor.
How to Prepare: The best ways to prepare yellow onions for burgers are to caramelize, sauté, and roast them. Yellow onions are usually considered as too pungent and intense to be used raw. 
White Onions
White onions are very similar to yellow onions in terms of size and shape. They have white papery skin and are much milder in flavor when compared to the yellow onion. White onions also have a crunchier texture than the yellow onion.
The best ways to prepare white onions for burgers are to fry, sauté, caramelize, and grill them. White onions can also be used raw.
Red Onions
Red onions, also commonly referred to as 'purple onions', are considerably milder in taste than yellow and white onions. This makes them ideal for recipes that require raw onion, such as salads and of course, burgers!
How to Prepare: The best ways to prepare red onions for burgers are to pickle, sauté, and grill them. Red onions are one of the most ideal types of onion to be eaten raw on burgers.
Scallions and Spring Onions
Scallions, also known as green onions, are simply red, white, or yellow onions that have been harvested early. As a result of this, they are much milder in flavor. Scallions have long, green, leafy stalks with a small bulb at the bottom.
Spring onions are just scallions that have been allowed to mature a bit longer. Spring onions have a bigger bulb than scallions and are also a bit sweeter. Typically, ripe onions are picked during the summer season. Spring onions are picked during the spring season when the onions are not fully ripe.
How to Prepare: The best ways to prepare scallions and spring onions for burgers are to braise, roast, grill, or pickle them.
Sweet Onions
Sweet onions, also known as 'Vidalia onions' or 'Walla Walla,' are quite similar to yellow onions, but they are generally a bit larger. As the name suggests, sweet onions are naturally sweet due to their low sulfur and higher water content.
How to Prepare: The best ways to prepare sweet onions for burgers are to caramelize, grill, sauté, and fry them. Sweet onions hold the number one spot as the best type of onion that can be paired raw with burgers.
Shallots
Shallots have many similarities with the red onion but are much milder. Some people describe them as having a very mild garlic-type taste as well.
How to Prepare: The best ways to prepare shallots for burgers are to pickle, fry or add them in a delicious salsa. Shallots can also be used raw due to their mild properties.
Leeks
Leeks look very similar to scallions but are much larger in size. Unlike scallions, the green, leafy stalks of leeks are largely inedible. It is for this reason that leeks are never eaten raw.
However, when cooked, they have a mild and sweet onion flavor with a slightly crunchy texture.
How to Prepare: The best ways to prepare leeks for burgers are to roast, sauté, fry, grill or braise them.
How to Cook the best onions for burgers
| Type of Onion | Flavor Profile | Preparation |
| --- | --- | --- |
| Yellow Onion | strongest onion taste, intense | caramelize, sauté, or roast |
| White Onion | more mild than yellow onions | fry, sauté, caramelize, or grill |
| Red Onion | strong taste, sweeter when cooked | pickle, sauté, or grill (can also use raw) |
| Scallions | mild onion flavor | braise, roast, grill, or pickle |
| Spring Onions | mild onion flavor, sweeter than scallions | braise, roast, grill, or pickle |
| Sweet Onions (aka Vidalia) | sweet onion flavor | caramelize, grill, sauté, or fry |
| Shallots | mild, have a slight garlic taste | pickle, fry or add them to salsa |
| Leaks | very mild, also sweet | roast, sauté, fry, grill or braise |
6 Toppings for Burgers That Are Made with Onions
If you have the right toppings for your burger, you don't need to rely on the default condiments: ketchup and mayo. Here are 3 onion-based toppings that give you all the flavor you need for an amazing burger experience!
Pickled onions are a great way to add a sweet and sour dimension to your burger. Using red onions for the brine will give this topping a pop of pink color that can do wonders for your burger presentation!
These Chipotle fajita veggies are a perfect addition to the top of any burger. They're so good, however, you'll be eating them plain!
Bacon onion jam will greatly up your burger or cheeseburger game. There are also a ton of additional uses for this condiment, from incorporating it into an appetizer to using it as a base for salad dressing.
This pepper jelly recipe is quick and easy and uses diced scallions. No canning is necessary! Make it hot or make it mild. Sweet and savory.
Adding onion rings to your burger is a great way to get a slight crunch, while enjoying the onions' sweetness and tenderness on the inside.
Perhaps you thought you knew all there was to know about burger toppings. Enter celebrity chef Shannen Tune and his insanely flavorful onion sauce recipe. This topping is an instant classic and will be in high demand at your next barbecue or cookout.
4 Mouthwatering Burger Recipes with Onion
There are countless ways to enjoy burgers and onions, but these burger recipes are at the top of the list. Whether you're using ground bison or ground beef, these burgers will hit the spot.
Kick your bland turkey burger up a notch with a flavorful teriyaki glaze and grilled sweet pineapple. Add grilled red onions for an extra kick.
Experience the delightfully sweet and smoky taste of caramelized onions and smoked paprika on your ground beef patty. The added garlic guarantees a moist and tender burger that will leave a lasting first impression. 
This complex burger recipe offers the signature flavor of French Onion Soup infused in a juicy beef patty. It features a toasted hamburger bun topped with gruyere cheese and caramelized onions. Needless to say, with every bite you'll come to realize that it's definitely not your average burger.
This sinfully delicious 'smash style' burger, topped with a mountain of charred white or yellow onions, is simply in a league of its own. The Oklahoma burger, also known as the depression burger, is so flavorful that no condiments are needed. It is also one of the most authentic burger experiences out there (converting people into burger lovers by the dozens).  
Have questions or suggestions about the best onion for burgers? Leave them in the comments below.