As most of you may know already, I have a very large weakness for all things sweet. I admit it, I have no self-control. This time of year, the urge to have dessert is stronger than ever. I mean it is the holidays, right? You are suppose to splurge a bit. I'm not sure who I am trying to convince here, me or you! We have our favorite dessert recipes, that is for sure. Cheesecake, brownies, and of course bread pudding. Every now and then I like to switch things up a little and try an old classic with some new ingredients. Who knew you could get inspiration from cereal and a great new movie!
Chunky Monkey Chocolate and Banana Bread Pudding 
Warm, sweet and flavorful bread pudding is one of our favorites! When I saw the Honey Bunches of Oats honey roasted flavor, I just knew that would add the extra sweet crunch our bread pudding needed. The crisp crumble all over the top gives it just the right amount crunchiness. When I saw the sweepstakes promotion on specially marked boxes for the new movie Sing (in theaters December 2016), inspiration struck yet again. One of the main characters in this adorable movie is a gorilla named Johnny. What do gorillas love? Yes, bananas. What goes great with bananas? Why chocolate of course! Voila! Chunky Monkey Chocolate and Banana Bread Pudding was born.
Before I tell you how I made this incredible decadent dessert, I must tell you about the sweepstakes I entered first.
On specially marked boxes of Honey Bunches of Oats at your local Walmart store, you can enter the $100,000 SING movie sweepstakes. Simply purchase one of the specially marked boxes and enter the code found inside. You can instantly win movie tickets,headphones and more. Each code you enter is another chance to win $100,000!
Chunky Monkey Chocolate and Banana Bread Pudding
Ingredients
8 eggs
3 Cups milk
6 Cups (12 dinner rolls) day old bread – broken into pieces
1 Cup sugar
2 teaspoons cinnamon
1 Tablespoon vanilla
1/2 Cup honey
3 ripe bananas diced
1 Cup choc chips.
2 cups Honey Bunches of Oats (Honey Roasted) crushed
1/2 stick butter
2 Tablespoons sugar
Directions
Preheat oven to 350 degrees.
Grease a 9×13 baking pan lightly with cooking spray. Add in your bread pieces.
In a bowl, whisk together eggs, milk, sugar, cinnamon, vanilla and honey.
Add in bananas and chocolate chips.
Pour egg mixture over the bread pieces evenly. stir to coat and distribute the chocolate throughout the pan.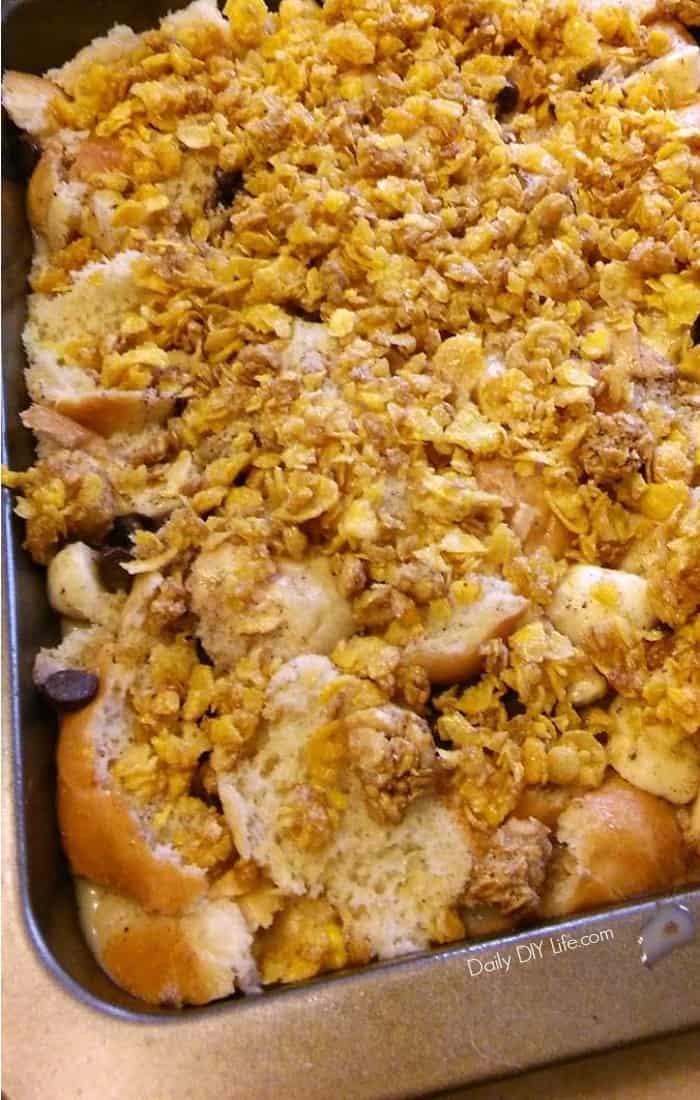 In a separate bowl. combine the honey bunches of oats, melted butter, and sugar. sprinkle your cereal crumble all over the top of your bread mixture.
Bake uncovered for 50 – 60 minutes or until the center springs back when lightly pressed.
You can just see all the crunchy bits on the top! Yum!!
Serve with creamy vanilla ice cream on the side.
The teens went "bananas" over this one! I can't say I blame them, the final product was rich and creamy with melted chocolate bits throughout. The crumble on the top added lots of extra sweet crunch to balance everything out.
If you are looking for something to make before you head out to see SING in theaters December 2016, or even a sweet treat for after the show, this Chunky Monkey Chocolate and Banana Bread Pudding will be perfect. Have you seen the movie yet? I would love to know what you think. It looks adorable.
More Banana Flavored Recipes
Easy 4-Ingredient Banana Bread
Curious how bananas get their yellow color? Read all about yellow foods.