You've chosen your recipe, but now what to serve with chicken piccata?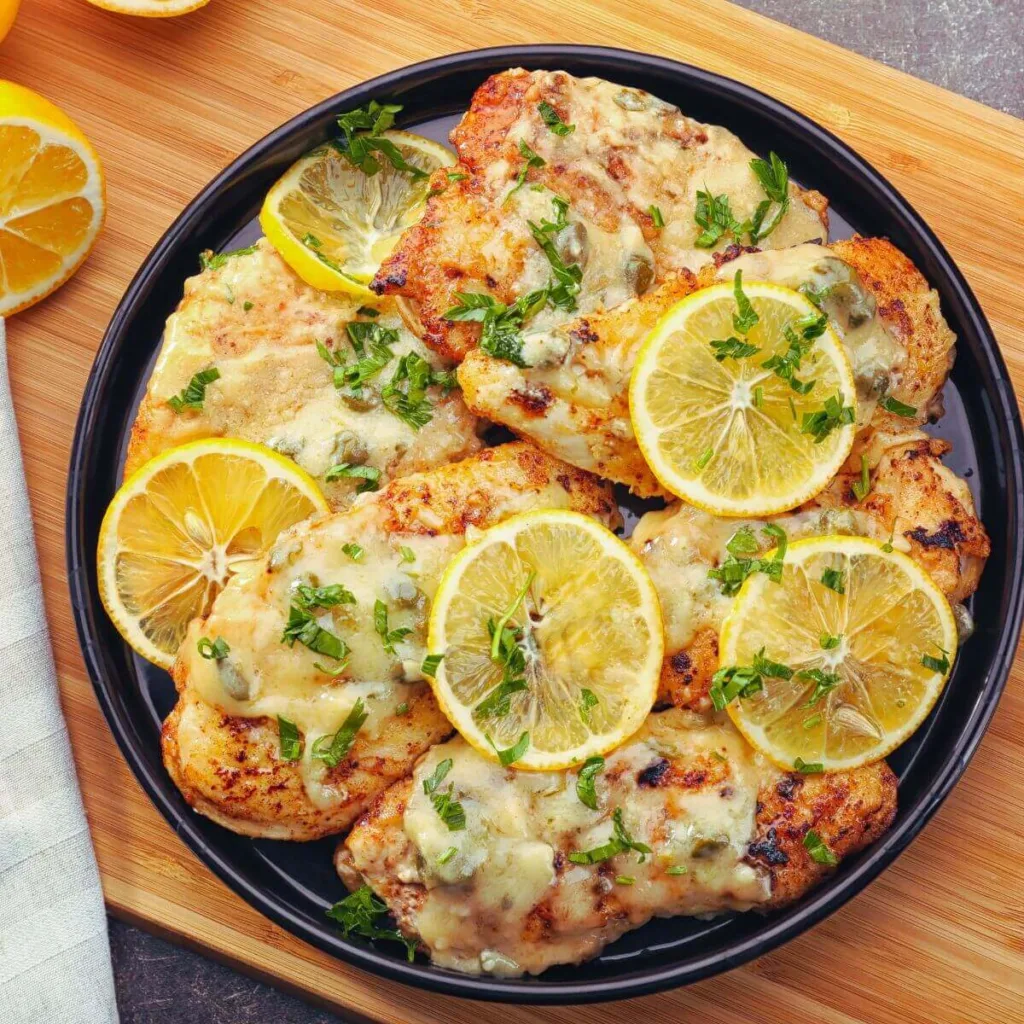 In search of a classic Italian dish? Look no further than chicken piccata! This scrumptious meal features tender chicken cutlets (either breast or thigh) cooked to perfection in a tangy lemon, capers, and white wine sauce. And with its versatility, you can pair it with a variety of sides to satisfy your cravings. Check out our blog post for delicious side dishes that perfectly complement chicken piccata, including pasta, rice, veggies, and salads.
Without further ado, here are the best, in our opinion, chicken piccata side dishes.
What to Serve with Chicken Piccata – Veggies
The best side dishes for your piccata that are veggie-forward.
For a delicious crunch, try oven-roasting broccoli with olive oil, salt, pepper, and a sprinkle of parmesan cheese. This side dish adds both flavor and texture to your meal, complementing the chicken piccata.
A refreshing Caprese salad consists of tomatoes, fresh mozzarella, basil, and a drizzle of balsamic glaze. This light, contrasting element adds color and freshness to the meal, enhancing the Italian flavors of chicken piccata.
Savor the delectable taste of roasted carrots, meticulously prepared with an extraordinary garlic butter that melts in your mouth, blending seamlessly with a drizzle of sweet honey sauce. This recipe transforms the humble carrot into a star dish that is not just a side, but a flavor-packed culinary experience.
Sauteed spinach makes an exceptional companion to chicken piccata, providing a healthy and vibrant contrast to the tangy lemon-caper sauce of the piccata. The slightly bitter, earthy notes of the spinach balance out the rich, savory flavors of the chicken, creating a well-rounded, satisfying meal. Furthermore, the bright green of the spinach adds a visually appealing element, making your chicken piccata dish not only delicious but also a feast for the eyes.
Baked artichoke hearts are a beloved accompaniment to any meal! These canned artichoke hearts are beautifully adorned with zesty lemon, aromatic garlic, fresh parsley, and a splash of white wine, then generously sprinkled with breadcrumbs. They're then baked to perfection until they reach a toasty, golden hue that's simply irresistible.
Steamed asparagus is a fresh, green element that adds balance to the plate. Lightly seasoned with salt and pepper, it contrasts the richness of the piccata sauce.
Presenting the unrivaled Garlic-Parmesan Roasted Cauliflower recipe, a versatile side that complements any main dish or protein beautifully. Though it calls for just a few ingredients, this roasted cauliflower promises a burst of flavor that's sure to leave a lasting impression. Even the most discerning veggie critics will be won over by this culinary delight.
Looking for another roasted cauliflower post? Check out our fave celebrity recipes for a delicious roasted cauliflower recipe made by Blake Lively.
Air Fryer Brussels Sprouts are crispy and golden brown and made in less than half the time of a traditional oven. Their simplicity and deliciousness are perfect to accompany any chicken dish, but especially piccata.
A colorful medley of sautéed vegetables, such as eggplant, zucchini, bell peppers, and tomatoes, adds a nutritious and flavorful touch to the meal. The blend of vegetables and herbs in ratatouille complements the tangy flavors of chicken piccata.
Feast your senses on a delectable casserole that's sure to satisfy all palates. This enticing crack green bean recipe teems with the rich flavors of bacon and crispy fried onions, but its versatility allows for a simple modification to cater to vegetarian diets.
Marinated and grilled vegetable skewers provide a healthy, colorful, and smoky accompaniment to chicken piccata. Choose a variety of vegetables like bell peppers, zucchini, mushrooms, and cherry tomatoes to create an eye-catching and delicious side dish that enhances your meal.
A crisp Caesar salad, featuring kale, croutons, and parmesan cheese, adds a refreshing crunch to your meal. This classic salad complements the Italian flavors of chicken piccata and provides a light contrast.
What to Serve With Chicken Piccata – Carbs
Below are some carb-loaded alternatives for the perfect side dish.
Whether you use regular pasta or egg noodles, buttered noodles are the perfect pairing for Chicken Piccata. The richness of the butter complements the tanginess of the lemony chicken piccata sauce, adding a velvety smoothness to each bite. The tender noodles provide a soft and delicate base that absorbs and balances the vibrant flavors of the chicken, capers, and citrus, resulting in a comforting and delectable pairing.
Light and fluffy couscous infused with lemon juice, fresh herbs, and a touch of olive oil is a versatile and flavorful side dish. Its bright, citrusy flavors and delicate texture make it an excellent accompaniment to chicken piccata.
Smooth, buttery polenta provides a satisfying base for chicken piccata. Its rich texture and mild flavor make it the perfect complement to a robust piccata sauce.
Add a Mediterranean touch to your meal with an orzo pasta dish featuring spinach, feta cheese, and lemon zest. This flavorful side dish is an excellent choice to serve alongside chicken piccata.
Warm, crusty garlic bread is a classic side that can be used to soak up the flavorful sauce of chicken piccata. Its buttery, garlicky flavor complements the tangy piccata sauce perfectly.
For a hearty and flavorful side dish option, try oven-roasting potatoes seasoned with rosemary, olive oil, salt, and pepper. These fragrant, savory potatoes make a delightful pairing with chicken piccata.
Enhance the flavor of basmati rice by infusing it with lemon juice, fresh herbs, and a bit of olive oil. This aromatic side dish pairs well with chicken piccata, complementing its tangy sauce.
Light and delicate, angel hair pasta is an ideal side dish for chicken piccata. Toss it with olive oil, salt, pepper, and fresh herbs to enhance its flavor and create a harmonious pairing with the piccata.
Rich and comforting, garlic mashed potatoes are a delicious accompaniment to your chicken piccata. The creamy potatoes not only add texture to the meal but also help to soak up the delicious lemon-caper sauce.
Wine Pairings for Chicken Piccata
Chicken Piccata is a dish characterized by its rich, tangy lemon-caper sauce, which makes it a perfect match for wines that can complement these flavors. Here are some top picks:
Sauvignon Blanc: Known for its bright acidity and citrus notes, Sauvignon Blanc can stand up to the lemon in the dish while also providing a crisp, refreshing contrast to the richness of the sauce. It's a great option if you prefer white wine.
Chardonnay: If you prefer a fuller-bodied white, go for an unoaked or lightly oaked Chardonnay. The wine's natural fruitiness and moderate acidity can balance the tangy, buttery flavors of the Chicken Piccata.
Vermentino: An Italian white wine that offers a zesty, mineral-driven profile, which pairs brilliantly with the capers and lemon in the dish.
Pinot Noir: For those who prefer red wine with chicken, a lighter-bodied, low-tannin red like Pinot Noir could be a good choice. Its bright acidity and red fruit flavors can pair well with the savory elements of Chicken Piccata without overwhelming it.
Rosé: A dry Rosé, particularly one from Provence or an Italian Rosato, can offer the acidity to balance the Piccata's richness, while its fruity notes can complement the dish's flavors.
Chicken Piccata FAQs
What does chicken Picatta go with?
Chicken Piccata, with its tangy and savory flavors, pairs well with a wide variety of side dishes. Here are some suggestions:
Pasta: A simple spaghetti or linguine, lightly tossed in olive oil or butter, is a classic pairing. The pasta soaks up the delicious sauce of the piccata.
Rice: Whether it's plain steamed rice, brown rice, or a flavored risotto, rice serves as a great base to absorb the flavors of the chicken piccata sauce.
Roasted or Mashed Potatoes: These can help balance the tangy flavors of the piccata and make the meal more satisfying.
Vegetables: Steamed or roasted vegetables such as asparagus, broccoli, or green beans complement the dish well. A fresh green salad or sautéed spinach can also add a nice crunch and contrast.
Bread: A slice of crusty bread or a piece of garlic bread can be used to mop up the tasty sauce.
Couscous or Quinoa: For a healthier alternative, these grains provide a neutral base that pairs well with the flavorful chicken.
What does Giada serve with chicken piccata?
In her culinary presentations, Giada De Laurentiis often pairs chicken piccata with a hearty side of garlic mashed potatoes and a light, crisp mixed green salad. The creamy, savory potatoes perfectly complement the tangy, lemony chicken, while the salad adds a refreshing touch. Additionally, she suggests a glass of white wine such as a Sauvignon Blanc to complement the flavors of the dish, creating a well-rounded dining experience.
What is the best wine to use for chicken piccata?
Chicken Piccata, with its lemony, tangy, and slightly salty flavor profile, pairs exceptionally well with white wines that have high acidity and citrus notes. Sauvignon Blanc, with its bright acidity and hints of lemon and green apple, is a classic choice. Additionally, a dry Italian white wine like Vermentino or a crisp, unoaked Chardonnay can also balance and complement the flavors of Chicken Piccata beautifully.
What is the difference between chicken piccata and chicken francaise?
Chicken Piccata and Chicken Francaise are both delicious Italian-American dishes, but they have a few key differences. Chicken Piccata is typically dredged in flour before being sautéed and served in a sauce made from lemon juice, capers, and butter. The lemon-caper sauce gives Chicken Piccata its distinctive tangy and slightly salty flavor.
On the other hand, Chicken Francaise is first dipped in flour, then in a beaten egg mixture before being sautéed. It's served in a lemon-butter sauce, often with a splash of white wine, which results in a more delicate, creamy, and subtle lemon flavor. So the primary difference lies in the coating of the chicken (the egg batter in Francaise) and the intensity of the lemon flavor in the sauce.
Print Recipe
What to Serve With Chicken Piccata
Check out these perfect side dishes to serve with chicken piccata. From pasta to potatoes to orzo.
Ingredients
Veggies to Serve With Chicken Piccata
Parmesan Roasted Broccoli

Caprese Salad

Glazed Carrots

Sauteed Spinach

Italian-Baked Artichoke Hearts

Perfectly Steamed Asparagus

Garlic-Parmesan Roasted Cauliflower

Air Fryer Brussels Sprouts

French Ratatouille

Crack Green Beans Casserole

Grilled Vegetable Skewers

Kale Caesar Salad
Carbs to Serve With Chicken Piccata
Buttered Noodles

Couscous with Lemon and Herbs

Creamy Parmesan Polenta

Orzo with Spinach and Feta

Garlic Bread

Rosemary Roasted Potatoes

Lemon Herb Rice

Easy Angel Hair Pasta 

Garlic Mashed Potatoes
Chicken piccata is a delicious and versatile main dish that pairs beautifully with a wide range of side dishes. From pasta and rice to vegetables and salads, these side dish options will complement the tangy flavors of chicken piccata and create a well-rounded, satisfying meal.
Enjoy experimenting with different pairings to find the perfect combination for your taste buds. No matter which side you choose, you'll be sure to create a memorable dining experience for you and your guests.
Have questions or suggestions about what to serve with chicken piccata? Leave them in the comments below.
More Food Inspirations