It is mid July and now the peak of summer! You know what that means!! …….It's Blueberry Season!!! Actually, in some areas blueberry season can start as early as May. Boy, I wish I lived there! The month of July is prime time blueberry season on the East coast.
Tonight I decided I had to do something with this bowl full of berries I gathered this weekend. Something other than blueberry muffins and blueberry simple syrup for Italian sodas (My families new addiction!
Click HERE for the recipe!!
) So I made my nanas Blueberry Buckle! The moist cake is loaded with plump and perfect blue berries. The sweet crunchy topping just melts in your mouth with every bite! You have got to give this one a try.
My nana would be happy to know that I am sharing this recipe with you. It brings me back to a time of innocence and fun filled weekends at nanas.
Enjoy …..
2 C. all-purpose flour
2 tsp baking powder
1/2 tsp salt
1/4 C. unsalted butter
3/4 C. white sugar
1 large egg
1/2 tsp vanilla
1/2 C. milk
2 1/2 C. fresh blueberries
1/2 C. white sugar
Crumb topping
1/3 C. all-purpose flour
1/2 tsp ground cinnamon
1/4 C. unsalted butter, softened
    Preheat oven to 350 degrees F (175 degrees C). Butter and flour a 8 x 8 baking pan (I know my pan is round! It was all I had! I do know my shapes)
    Sift 2 cups flour, baking powder, and salt into a bowl. Set aside
    Beat 1/4 cup butter, 3/4 cup sugar, vanilla and egg with an electric mixer in a large bowl until smooth. Gradually add milk and beat until combined. Try to get it as fluffy as you can.  stir in flour mixture, making a stiff batter. Gently fold in blueberries and spread batter into prepared baking pan.
    Mix 1/2 cup sugar, 1/3 cup flour, cinnamon, and 1/4 cup butter in a bowl until blended and crumbly in texture. Sprinkle on top of batter, then lightly press topping into batter using fingertips.
    Bake in preheated oven until golden and a toothpick inserted in the middle comes out with moist crumbs, about 40 minutes.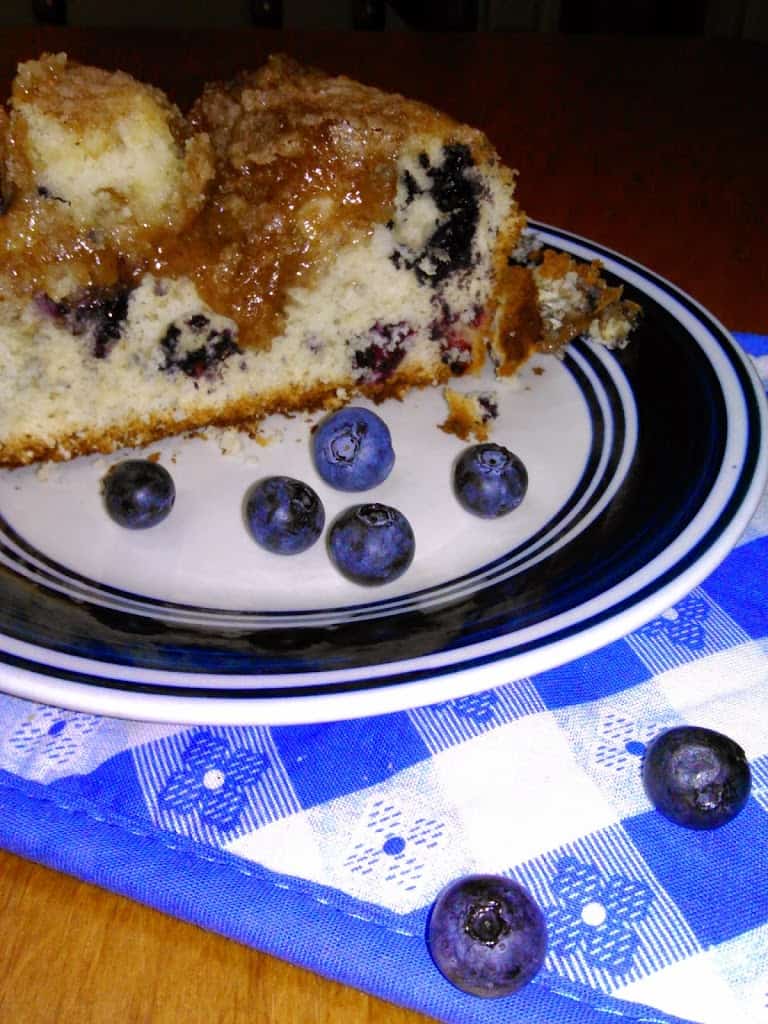 I hope you enjoy this wonderful blueberry buckle as much as my family has over the years. Let me know how it turns out for you.
Want more Daily DIY Life Recipes? Check out the RECIPES page!