I am so excited to share this post with you all today. I had the pleasure of working with Modern Masters for the purpose of this post. I have to tell you, I think I may have found my new favorite paint technique. I was a little nervous to get started on these old trunks that I picked up from a local sale group last year. Trying new things is always exciting and most of the time rewarding. For me, however, I get really anxious and stressed that I am going to mess it up. With no backup plan in place, I decided to just go for it. What is the worst that can happen? I don't like it and don't use it, or I absolutely love it and can't wait to show it off. It was definitely the latter. In the next few paragraphs, I will show you how I took these very old, very worn out trunks and gave them a fresh updated look with an easy new patina finish in just one day. You won't believe your eyes! If you can hold a paint brush, you can give new life to an old worn out piece.
Easy DIY Patina Finish with Modern Masters Paint – Pin it for later!
When I first found these trunks on a local sale group, I had big plans for them. Time and life happened, and those plans were never really a priority. The inside of the trunks were not salvageable, so I was unable to turn them into the shelving unit I had worked up in my head without giving it a whole new lining. Unfortunately, I haven't quite found the time to do that. I will be adding that to my to-do list after the first of the year. They just have so much character, I can only imagine the stories that go along with them. For now, I wanted them to add a little charm and a bit of whimsy to my bedroom.
This post has been made possible with the help of Modern Masters Metal Effects Patina Kit. I have received the supplies need for this post for free. All thoughts and opinions are 100% my own. A great big Thank You to Modern Masters for making this post possible. 
As you can see in the before picture, the trunks were old, worn, and although they have tons of character already, they are screaming for a fresh coat of paint and an updated look.
Before I could get started on the patina finish, I gave both trunks two coats of white chalky paint that I already had in my supply cabinet.
Once that was dry it was time to give it the personality it was so screaming for. This is where the Green Patina Kit comes in from Modern Masters. The patina kits allows you to transform any paintable surface into a beautiful patina finish in minutes. This kit includes primer, oxidizing copper paint, green patina aging solution with a spritzer cap. There are three patina finish colors to choose from. You can choose green patina, blue patina, or rust finish. Each kit includes full instructions and covers up to 2 sq. ft. Just right for small projects.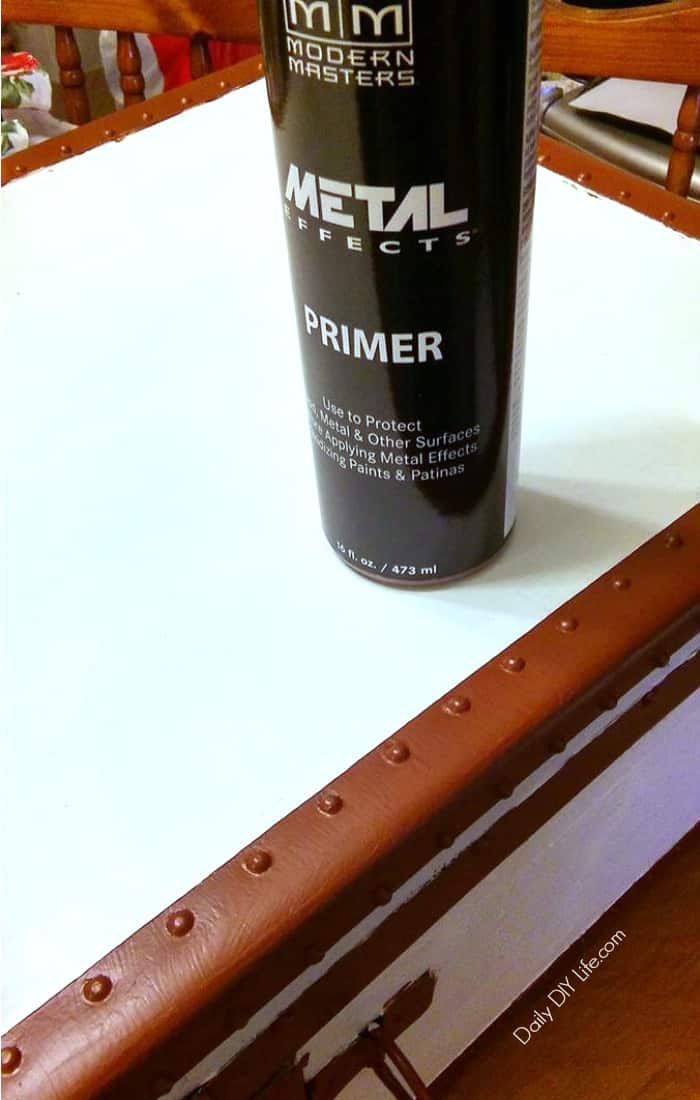 I applied the copper primer, and boy that was nice even on its own. After two generous coats of primer, I left it to completely dry overnight.
Now for the fun part! The first coat of metal effects oxidizing copper paint was brushed on and set to dry completely. That only took about an hour. The second coat is where you make the magic. After applying your second coat, you give the wet paint a spritz with the green patina again solution, I did work in small areas so the paint didn't have a chance to dry before it got its spritz. In just minutes you can see the green patina finish forming right before your eyes.
Here are a few photos as it was oxidizing. You can see just how quickly and beautifully this solution works.
After just a couple hours it was completely dry and ready for decorating.I think it adds just the right touch of class and whimsy that my bedroom was needing.
The whole process from start to finish was about 16 to 17 hours. That is including the 12 hours suggested drying time for the primer layer.
I have to admit, I was originally going to do the base of my dining room table, but I chickened out. Again, I was nervous about messing something up. After using this amazing process on the trunks, I think the dining room table will be a breeze and will look incredible. That will be one of my big projects after the new year, and once the major holidays are behind us.
If you love this transformation as much as I did, be sure to Pin the image below to share with your friends!
If you would love to see more of the incredible products offered by Modern Masters, Please visit the very talented bloggers below. Each of us chose our favorite product to work with, and the variety of ideas is mind blowing. Click the links below to see their beautiful projects, and how they made it happen.
Kitchen Island Bar Stools Transformed with Modern Masters Paint – Sassy Town House Living
A New Look To An Old Door with Modern Masters Paint – Makin My Apt A Home
Lamps Transformed with Modern Masters Metal Effects – Housekaboodle
---