Something about the sweet creamy filling in this Cream Cheese Danish Recipe is just so satisfying and delicious! The flaky pastry looks like something you would get at an upscale bakery. In all actuality, it is oh so simple and can be made in just minutes in your very own kitchen with ingredients you can find at your local grocery store.
No one has to know just how easy it is to make this pretty little pastry! It can be our little secret! You will wow your family and friends at the first site of this dessert. Once they taste it, they will be in dessert heaven! The flavor of this Cream Cheese Danish is perfectly balanced with the sweetness from the sugar and the tart taste from the cream cheese. A pairing like no other when it comes to desserts.
---
Ingredients:
1 Can Pilsbury Seemless Crescent dough
1 8 oz. block cream cheese
1/2 Tablespoon vanilla
2 Tablespoons flour
1/2 Cup sugar
For the glaze: 
1 Cup powder sugar
2 Tablespoons milk
1/4 teaspoon vanilla
Directions:
Preheat oven to 350 degrees.
Unroll the Seemless crescent dough onto a lightly floured surface. Roll it out slightly with a rolling pin, being careful to keep the rectangular shape. Place the rolled piece onto a baking sheet. Do NOT grease your baking sheet. Using kitchen scissors, cut slits in the dough about 2 – 3 inches deep about 2 inches apart, at an angle as shown in the picture above.
In a medium bowl, combine the cream cheese, sugar, flour and vanilla. Mix with a hand mixer on medium speed until smooth.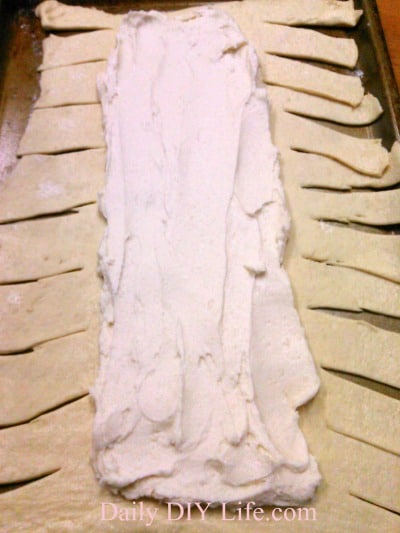 Spread the cream cheese mixture down the center of the dough evenly. Leave about an inch of dough on each end for closing.
Alternating sides, fold over the edges, overlapping each side as you go. This will make the criss cross or braided pattern on the top of your danish.  Fold up the ends and pinch to close.
Bake your Cream Cheese Danish 15 – 20 minutes. Or until golden brown along the edges. Let it cool before removing it from your baking sheet. Once your danish has cooled, transfer it to your serving platter.
---
 Prepare the glaze – Mix together powder sugar, vanilla and 1 Tablespoon of the milk. If your glaze is too thick, add the remaining tablespoon of milk. Add more milk a little at a time if needed to create the consistency you like. Drizzle the glaze over your danish. Cut into slices and serve.
---
I can't wait for you and your family to give this Cream Cheese Danish Recipe a try! Let me know what you think using the comment box below.
Do you have a favorite dessert that uses cream cheese or crescent rolls? I would love to hear about it!
---
Looking for more mouthwatering dessert ideas? So are we! Check out what we have found on Pinterest! You can get inspired too!
Follow Daily DIYlife's board Recipes – Desserts & Snacks on Pinterest.