It is definitely the start of soup season in most of the country. We shared with you just yesterday a super Quick & Easy  Round 2 Creamy Chicken Soup recipe that our family just adored. You know you can't have soup with out some good crusty bread or perfectly seasoned rolls to go with it. We have just what you need right here with these ridiculously easy Pizza Dough Parmesan & Garlic knots.
Normally with soup I would toast up a baguette or garlic french bread, I just didn't have any on hand this time so I had to improvise. I did have a  ready made Pilsbury Pizza Dough in the fridge. It was the perfect substitute and went nicely with the Creamy Chicken Soup.
Ingredients:
1 can Ready made Pilsbury Pizza Dough
4 Tbsp Butter – softened
1 Tbs Parsley
1 Tbs Parmesan Cheese
1 Tbs Garlic Powder
1/2 Tbs dried Basil
Directions:
Preheat oven to 350 degrees. Grease a cookie sheet.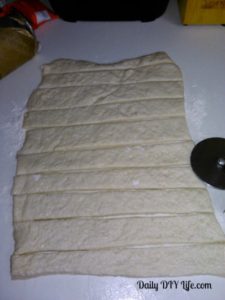 Roll out your pizza dough on a lightly flour surface. Cut 1 " strips

Tie your dough into "knots" place onto a greased cookie sheet.
Mix together your butter, parsley, parmesan, garlic power and basil.
Brush the tops of your "knots" with your butter mixture.
Bake in 350 degree oven for 8 – 10 minutes until lightly golden. Turn your oven to broil and broil for just a minute or 2 to give it that dark golden color.

After you remove the "knots" from the oven, give them another brush with your seasoned butter. Serve Warm.
Flavored butters are a great addition to any toasted bread. If you have a favorite herb or spice mixture, try adding it to softened butter for rolls, bread or even to top a perfectly cooked steak. You will be amazed at the big punch of flavor it adds to what ever it is your cooking.
---
Looking for more Daily DIY Life recipes? Be sure to hop on over to our RECIPE PAGES HERE.
LIKE US ON FACEBOOK and FOLLOW US ON TWITTER so you are always first to know when we add new recipes and projects.
not a fan of Social Media? no problem! You can sign up for our weekly NEWSLETTER HERE!