Create your own Coffee Bar Decor that you can personalize to fit all of your needs and your personality. Creating a DIY Coffee bar for your home is not only visually pleasing but will also free up some space in your kitchen. You can personalize so many accents for your coffee bar using StyleTech Craft Vinyl and your Cricut cutting machine. The sky is the limit when it comes to putting together your coffee bar decor.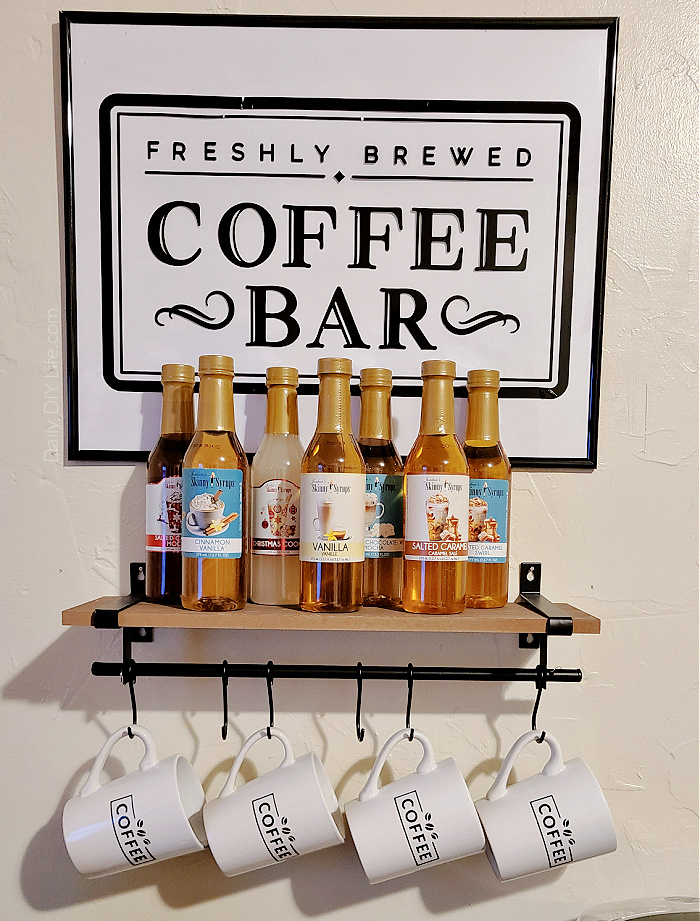 Coffee Bar Decor Made Easy – Pin It For Later!
As part of the StyleTech Craft 2020-21 design team, I have received product and compensation for the purpose of this post. All ideas and opinions are 100% my own.
This post also contains affiliate links for your convenience. That means that if you click on a link within this post and a purchase is made, I will receive a small commission at no extra cost to you. For more details, please see our disclosure page. 
What Is A Coffee Bar?
A coffee bar is a separate area, a counter, or a stand-alone piece of furniture where coffee, tea, and light refreshments can be served.
I have an extremely small kitchen with very little counter space. Having a spot for my coffee pot and all of the add-ins is a necessity. Before I set up the coffee bar, I had to move my Keurig every time I wanted to use another appliance. This was a huge inconvenience for me and I just knew there was a better way.
After looking for some inspiration on Pinterest and Facebook I came up with an adorable setup that works perfectly for me. Using StyleTech Glossy Craft Vinyl and StyleTech Luster Vinyl my Cricut Maker
I was able to personalize and customize the coffee bar decor pieces exactly the way I wanted them.
What Items Do You Need For A Coffee Bar?
When putting together your own coffee bar find a piece of furniture that is about waist high. I used a cabinet that I was given to makeover. I loved the rustic look and decided to keep it as is. There is just enough room for my two machines and all of my mix-ins. You will also want to think of the things that you use the most in your own coffee. Flavored syrups, Creamer, sugar, mugs, etc. Then add in a few extras that you can splurge with. Here is a quick list to give you some ideas.
Personalizing Your Coffee Bar Decor
If you have been here before, you know that I love to personalize my home decor using my Cricut Maker
and StyleTech Craft Vinyl
. I have done this for everyday decor, Holiday decor, Gifts for family, and now I am adding my own personal touch to my coffee bar decor.
I started by adding a very large sign above the coffee bar itself. This is a 16 x 20 poster frame that I purchased at Walmart for around $5. You can find a similar one on Amazon HERE. 
Using Styletech Glossy Craft vinyl I cut out a simple Coffee Bar sign. This was a ready-made design in Cricut Design Space that is free for personal use with a monthly Access subscription.
I wanted the coffee mugs and the syrup bottles to have a simple font. Keeping everything very minimalistic and simple. The font on the cups and the bottles are also free for personal use with the Cricut Access subscription. The font is Cricut Sans.
StyleTech Glossy Craft Vinyl was also used for the mugs and the syrup bottles. Since it is a permanent vinyl, I can still hand wash them when needed.
For a little bit of color, I used StyleTech Craft Luster Vinyl to give the chalkboard hearts some bling. Luster vinyl is also permanent and still last for years even with all the use of the bottles.
The shimmer on the luster vinyl was just enough to give my coffee bar decor a little life since I tend to decorate in black and white so much.
The espresso cups and mini spoons were purchased at a local home goods store. There are great options very similar on Amazon. I just love how tiny they are.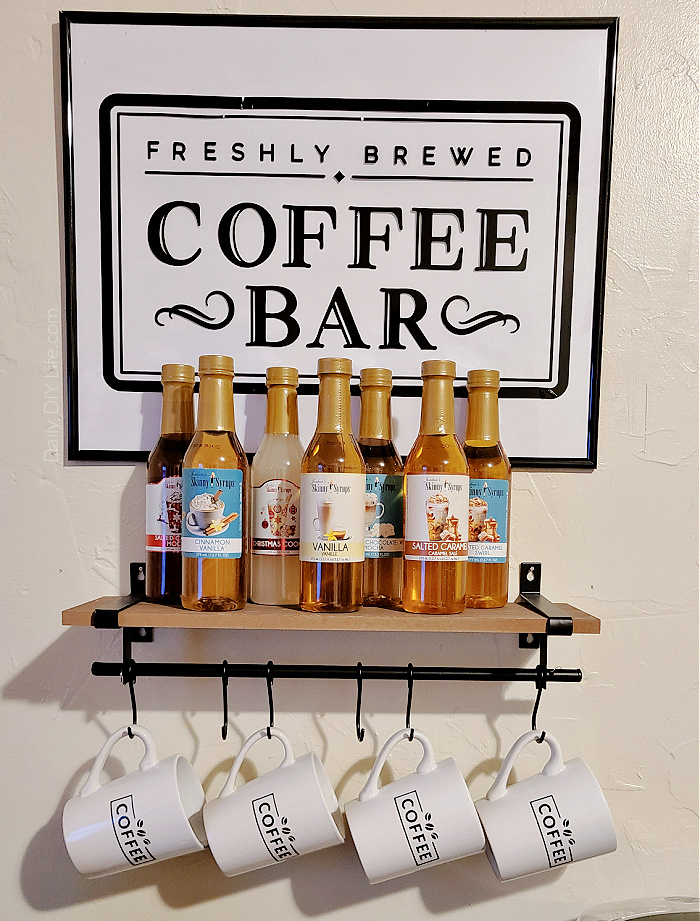 What Would Your Ideal Coffee Bar Look Like?
This coffee bar set up works perfect for me. With the Keurig and the espresso machine in a convenient location, all of my favorite syrup flavors front and center, I can brew up a perfect coffee or latte any time I like. Did I mention that making my favorite coffee recipes at home also saves me a ton of money at the local coffee shop?
If you love this Coffee Bar Decor, don't forget to Pin It For Later!
Psst… Now that you have the perfect coffee station, you needs something to go with your cup of joe. Try making these delicious butter rum muffins.