If you are a fan of unique DIY paint techniques, then you are going to love the Rustic Wood Stain on this Birdhouse. Using a fun patriotic color palette, I decorated a raw wood birdhouse using DecoArt Americana Decor Color Stain in various shades of reds, white, and blues. This technique can be a bit time consuming, but the end result is beautiful. You won't regret giving it a try.
Are you a fan of Giveaways? We have one you are going to love!
There is also a super cool GIVEAWAY sponsored by DecoArt! Follow this post til' the end to see SIX incredible outdoor projects, and enter to win your own DecoArt gift package. Just in time for summer crafting!
DIY Rustic Wood Color Stained Birdhouse – Pin It For Later!
This post is made possible by the folks at DecoArt. Product has been provided for the purpose of this project. All ideas and opinions are 100% my own.
This post also contains affiliate links for your convenience. That means that if you click on a link in this post and a purchase is made, I will receive a small commission at no extra cost to you. For more details, please see our disclosure policy.
Color Stained Birdhouse – DIY Rustic Outdoor Decor!
A few weeks ago, in one of the hundreds of Facebook groups I am in, I was inspired by a piece where someone used a cool dye technique on a wooden tray. There was no tutorial, just an image, so I set out to find a way to create the same look using DecoArt Americana Decor Color Stain.
With the 4th of July holiday coming up, a patriotic theme was a necessity. The rich, vibrant colors of the color stain would show through perfectly against the dark wood. The low VOC in the color stain makes it easy to use indoors and great for those with allergies. This is also a self-sealing stain. That means there are no extra steps or sealers needed for your outdoor projects. I can't express enough how happy I am with the quality of this stain.
Here is what you will need:
Raw Wood – Something with a lot of wood grain works best like THIS
Small Torch
(I used this torch lighter
since my crafting space is limited)
DecoArt Americana Decor Color Stain
Small paint brushes
Sandpaper
Rustic Wood Stain Color Technique
Start by lightly sanding your raw wood. Remove any rough edges and smooth out the finish. This will also open up the pores on the surface of the wood. Wipe off and sawdust with a clean tack cloth.
Once the wood is sanded and cleaned, begin using the torch to gently scorch the wood. Make sure to take all safety measure provided by the manufacturer.
Once the wood has been torched enough to see the dark wood grain, go over it once again with fine grit sandpaper to blend the grain and remove any coarse areas.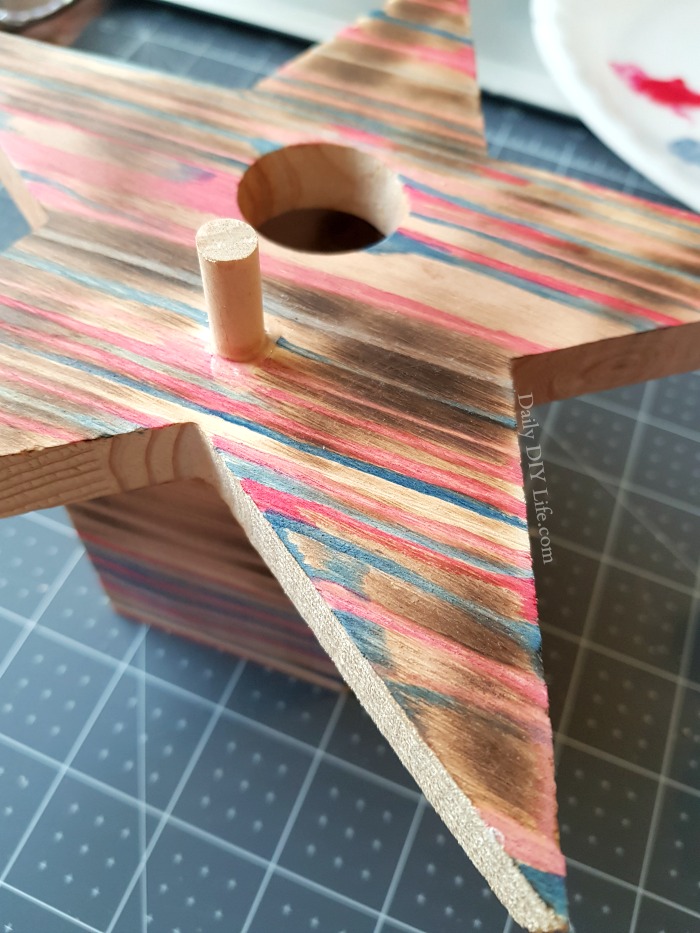 Now it is time to make it beautiful!
This reminds me a lot of the paint by number books we had when we were kids. You are going to simply paint each section that is NOT burned using the DecoArt Color Stain of your choice. I chose to alternate the blues and reds where I thought it would look the best. There is no right or wrong with this technique.
Once I had most of the bare spots filled with color, I went between them using the white DecoArt Color Stain and a fine paintbrush to add some accent color.
Cover your whole piece using the steps above. You can use a large paintbrush for the wider areas and a thin paintbrush for the smaller areas on the wood.
Relax, and enjoy painting!
This is not a quick project by any means. It will take some time to fill in each small section of the wood grain in the various colors that you pick. Pour yourself a refreshing beverage, turn on your newest binge-worthy tv series, relax and begin painting. You won't be disappointed with the outcome.
The next piece I do with this DIY Rustic Wood Stain Technique will be in vibrant Fall colors. Maybe a tall sign for the front porch. Since DecoArt Color Stain has the sealer built right in, there is no need for any extra steps to seal your outdoor projects.
Giveaway Time!
We are so excited to be partnering with DecoArt in this amazing Giveaway, where one lucky reader will receive over $100 in DecoArt products!
The prize will consist of:
3 8 oz Jars Of Outdoor Living Paint In Wildflower, Poolside, Succulent

3 16 oz Jars Of Curb Appeal Paint In Colonial Black, Estate Red, Hampton Blue

3 Americana Decor Paint Brushes
Now it's time to meet our wonderful co-hosts who have made this giveaway possible. Be sure to visit their blogs linked below to see what projects they have created using DecoArt products!
Giveaway Hosts:
Please note you must be 18+ to enter and a U.S. Resident. One winner will be chosen at random. DecoArt is responsible for shipping the prize directly to the winner. This giveaway is in partnership with DecoArt. Good luck!
Sharing is caring…please pin the image below: