If you are anything like me, you are always on the look out for ways to add more vitamins and nutrients into your meals. Especially when picky eaters are involved. The teens are still quite picky and they are not 3 anymore I can't hide veggies inside things and try to "pull one over" on them. I do however encourage them to at least TRY something new and give it a chance. Slowly, they are getting better about doing this. With all the vitamins and nutrients in the sweet potato, it just might possibly be Nature's SUPER Food! And for that, I try to incorporate sweet potatoes in as many things as I can for the teens to try. After all it is "sweet" right? 🙂
Sweet Potato
Like many
orange foods
, sweet potatoes are both delicious and good for you. The sweet potato is a dicotyledonous plant that belongs to the family Convolvulaceae. Its large, starchy, sweet-tasting, tuberous roots are a root vegetable. The young leaves and shoots are sometimes eaten as greens. Source: 
Wikipedia.com
Nutrition Information:
Amount Per 1 cup, cubes
Calories 114
% Daily Value*
Total Fat 0.1 g    0%
Saturated fat 0 g    0%
Polyunsaturated fat 0 g
Monounsaturated fat 0 g
Cholesterol 0 mg    0%
Sodium 73 mg    3%
Potassium 448 mg    12%
Total Carbohydrate 27 g    9%
Dietary fiber 4 g    16%
Sugar 6 g
Protein 2.1 g    4%
Vitamin A    377%    Vitamin C    5%
Calcium    4%    Iron    4%
Vitamin D    0%    Vitamin B-6    15%
Vitamin B-12    0%    Magnesium    8%
*Percent Daily Values are based on a 2,000 calorie diet. Your daily values may be higher or lower depending on your calorie needs.
---
Check out these amazing health facts about the sweet potato and you be the judge! Do you think it is Nature's SUPER Food?
Sweet potatoes are an excellent source of:
Vitamin A (in the form of beta-carotene)
Great source of vitamin C
Manganese copper
Pantothenic acid
Vitamin B6
They are also a good source of potassium, dietary fiber, niacin, vitamin B1, vitamin B2, and phosphorus.
---
I've been gathering recipes to incorporate sweet potatoes into our meals and our desserts. I hope you find something that inspires you to include what is quite possibly Nature's Super Food into your weekly menu. Do you already have a favorite sweet potato recipe? I would love to hear about it! Without further ado …. Nature's Super Food Ladies and Gentlemen! *insert crowd cheering here* And if you just need to know how to boil sweet potatoes, I got you covered!
Savory Sweet Potato dishes:
Sweet Potato Risotto – Courtesy of: A Family Feast
Sweet Potato Corn Cakes w/ Garlic Dipping Sauce – Courtesy of: Best Food Book.com
Sweet Potato Tater Tots – Courtesy of: Super Glue Mom
Sweet Potato Gnocchi – Courtesy of: Paleo Grubs
Perfect Baked Sweet Potato – Courtesy of JoshuaTrent.com
Amanda's Skinny Smashed Sweet Potatoes – Courtesy of: Bacon Time w/ the Hungry Hippo
Sweet Potato Nachos – Courtesy of Hola Jalapeno
Sweets & Desserts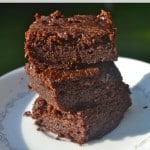 Sweet Potato Brownies – Courtesy of: Make the Best f Everything
Cinnamon Sweet Potato Muffins – Courtesy of Taste of Home
Sweet Potato Chocolate Chip Cookies – Courtesy of: The Kitchen Queen Eats Clean
Please remember if you choose to pin or share any of the recipes above, be sure to go to the direct source of the recipe creator. Thank you!
I hope you have enjoyed browsing the recipes today for Nature's SUPER Food! I am definitely going to try adding more sweet potato to my dishes. I think the teens will approve! We will have to see.
Would you like to try more Daily DIY Life recipes ? Be sure to check out our  RECIPES PAGE !
We are always adding new RECIPES and CRAFTS! LIKE US ON FACEBOOK and sign up for our Newsletter so you don't miss any of the fun!