Everyone knows about Shepherd's Pie and Corn Beef and Cabbage. But it wasn't until my wife and I traveled to Dublin that we discovered a whole other world of Irish food. Specifically, Irish Side Dishes.
Want to save this recipe?
Enter your email below and we'll send the recipe straight to your inbox!
Let's be honest, Ireland wasn't always known for its food. There, I said it. But in recent years, Ireland has had a food renaissance. With that, home cooks (myself included!) have rediscovered some of the old Irish recipe staples.
Whether you're celebrating St. Patrick's Day, entertaining guests, or just looking to explore unique Irish Recipes, it's time to dive into the numerous and tasty side dishes of Ireland.
Irish Side Dishes (Potatoes)
In my personal opinion, there is no better comfort food than the myriad of ways that the Irish make potatoes. Whether red potatoes or white potatoes, the Irish know their way around a good spud.
Irish Champ
Champ is basically Irish mashed potatoes. It has green onions and lots of butter and cream. You don't get much more traditional when it comes to Irish food than Champ. Make them as a Thanksgiving side dish and give your boring old spuds a twist.
Irish Colcannon
Irish Colcannon potatoes are pretty much Champ with the addition of a green such as cabbage or kale. Like Champ, it also contains green onions or scallions and, yes, butter and cream. Check out this Colcannon recipe and taste the magic for yourself.
Boxty (Potato Pancakes)
Boxty reminds me of potato latkes. But traditional Irish Boxty is made with both mashed and grated potatoes, flour, milk, and egg. They are then fried. So they're a little denser than latkes but still fall into the potato pancake category.
What to serve with Irish potato pancakes? Serve anything from your traditional breakfast food such as eggs and bacon, or go pescatarian and serve smoked salmon and a dollop of sour cream. Yum.
Potato Farl
Just like Colcannon and Champ, Farl and Boxty are very similar. Both in the potato pancake family, the main difference is that in Farl, the potatoes are cooked before being added to the mixture and fried.
Potato Farl is also sometimes referred to as Irish potato cake or potato bread. It's typically made in one large griddle and then cut or divided into smaller pieces. Think quesadilla after you cut it.
Colcannon Puffs
Yes, we're going to talk more about Colcannon, because why not? Colcannon can also be made into puffs. Who knew! Right? Colcannon Puffs are made from, you guessed it, Colcannon.
They're pretty much potato pancakes that are made from Colcannon, but the shape is more like a sphere and less pancake. They're great to make the day after you make Colcannon. One dish, two meals! Cha-ching.
Irish Scalloped Potatoes
You haven't tasted heaven until you've had Cheesy Irish Scalloped Potatoes. The difference between gratin potatoes and scalloped potatoes is the addition of cheese.
Scalloped potatoes are simply thinly-sliced and roasted potatoes in cream. Gratin potatoes, on the other hand, have cheese. So yes, if you're making cheesy scalloped potatoes, you're making potatoes au gratin. But we're not here to split hair, just eat.
Parsley Buttered Potatoes
This Parsley Buttered Potato Recipe turns your typical boiled potatoes into buttery herbaceous-ness that absolutely melts in your mouth. This is a great dish that your family will request 365 days a year.
Irish Side Dishes (Bread)
Whether you consider bread a side dish or not, Irish bread is delicious. It tends to be heartier with a thick crust. And since you often get a good hunk of bread on the side of a hearty helping of Irish stew, I'm including them here.
Irish Soda Bread
Irish Soda Bread is probably the best-known Irish bread. It's a yeast-less bread. Instead of yeast, it rises from the interaction between buttermilk and baking soda.
Just like American baked beans and Irish Baked Beans, there is a slight difference between soda bread and Irish Soda Bread. The main difference is that soda bread typically made in the US (or Irish American soda bread) includes caraway seeds and raisins.
Both in my opinion are delicious. I love dipping either in my morning coffee.
Irish Brown Bread
As I mentioned above, there is nothing better than a good hunk of Irish Bread with a hearty Irish stew or potato soup. Though similar to Irish Soda Bread, Irish Brown Bread is made with both wheat flour and white flour.
The deep cross cut into the dough of this bread before baking makes Irish Brown Bread hard to miss. Check out this recipe for Irish Brown Bread that uses oats in addition to both white and wheat flour.
Irish Barmbrack (Báirín Breac)
Irish Barmbrack is a traditional Irish baked good made and served on holidays. It's a yeasted dough. Not quite a cake, but not exactly bread either. It's full of spices such as cinnamon and nutmeg and a bit of sweetness that comes from black currants and raisins.
What I love so much about this bread/cake is the addition of orange and lemon zest or peel. Smothered with a liberal layer of Irish butter, there isn't anything better.
Irish Side Dishes (Breakfast)
A traditional Irish Breakfast is pretty much a few main Irish Side Dishes put together to make a hearty and filling meal. Let's explore the main side dishes below.
Black and White Pudding
Black and White Pudding is a core element of any Irish breakfast. Just to clarify, this pudding isn't really black and white. Not like a black and white cookie, at least. It's more than the pudding is either black or white.
Along with Black and White Pudding, a Full Traditional Irish Breakfast includes:
Eggs over easy
Bacon or sausage (or both!)
Grilled tomatoes
Mushrooms
Irish Baked Beans
Black or White Pudding (or both!)
Bubble and Squeak
The basic ingredients for both Black Pudding and White Pudding are made are oatmeal or barley, spices, and suet (animal fat that comes from around the kidneys of a cow, sheep, or mutton). The only thing that makes them different is that Black Pudding has animal blood in it. Typically cow or pig blood.
It's then made into patties and fried in more lard. Black Pudding is delicious if you're not scared of the blood. And White Pudding is great if you are! There's no Irish Breakfast without Black and White Pudding, so give it a try.
Irish Baked Beans
You might say that baked beans aren't Irish, but that's not true. Irish Baked Beans are a crucial element of any Irish Breakfast. But Irish Baked Beans are definitely different than American baked beans.
For starters, they are less sweet, and more tomato forwards in flavor. While American baked beans are cooked typically with pork, molasses, and brown sugar. Both are good, just two sides of the same coin.
Try them both and see which you like. But you won't find American baked beans as part of an Irish Breakfast.
Bubble and Squeak
Bubble and Squeak is sometimes part of a Traditional Irish Breakfast. Originating in Ireland, then finding its way to other parts of the world, all you need for Bubble and Squeak is the leftovers from a good Sunday Roast.
With a cast-iron skillet, combine your leftovers of roast, potatoes, and veggies and fry them to a golden crisp. Need an actual recipe?
Irish Side Dishes (Veggies)
Whether Russet, Yukon Gold or red potatoes, Irish food contains a lot of potatoes. There's no denying that fact. But there is a whole other world of Irish cooking with veggie side dishes that don't contain spuds.
Irish Flag Salad
Irish Flag Salad is a simple, yet delicious salad made with ingredients that mimic the colors of the Irish flag: white, green, and orange.
It's a patriotic Irish Side Dish that includes spinach, oranges, and white cheese such as feta. A great and pretty light dish that pairs well with some heavier Irish main courses such as pot roast and corned beef and cabbage.
Minted Peas
Nothing says fresh and scrumptious to me more than spring peas and mint, also known as Minted Peas. If you're able to make this Irish Side Dish with freshly-shelled peas I highly recommend it.
The combination of red onion, mint, and butter really makes this dish pop.
Mushy Peas
We've covered Minted Peas above, not let's talk Irish Mushy Peas. Mushy Peas made from frozen peas are not going to be amazing. There, I said it. But if you're able to find fresh peas, don't miss out on this traditional Irish Side Dish.
Parsnips and Potato Mash
Parsnips are great little veggies. And if you ask me, totally underrated. I love to dice them up, throw some olive oil and salt on them and roast them until they're crispy. In an Irish Parsnip and Potato Mash, working with these veggies take a different spin: creating a creamy and scrumptious dish akin to mashed potatoes.
Irish Side Dishes (Soups)
Nothing says comfort food during the winter than good old soup. And the Irish do it well. Below are two staples when it comes to Irish soup.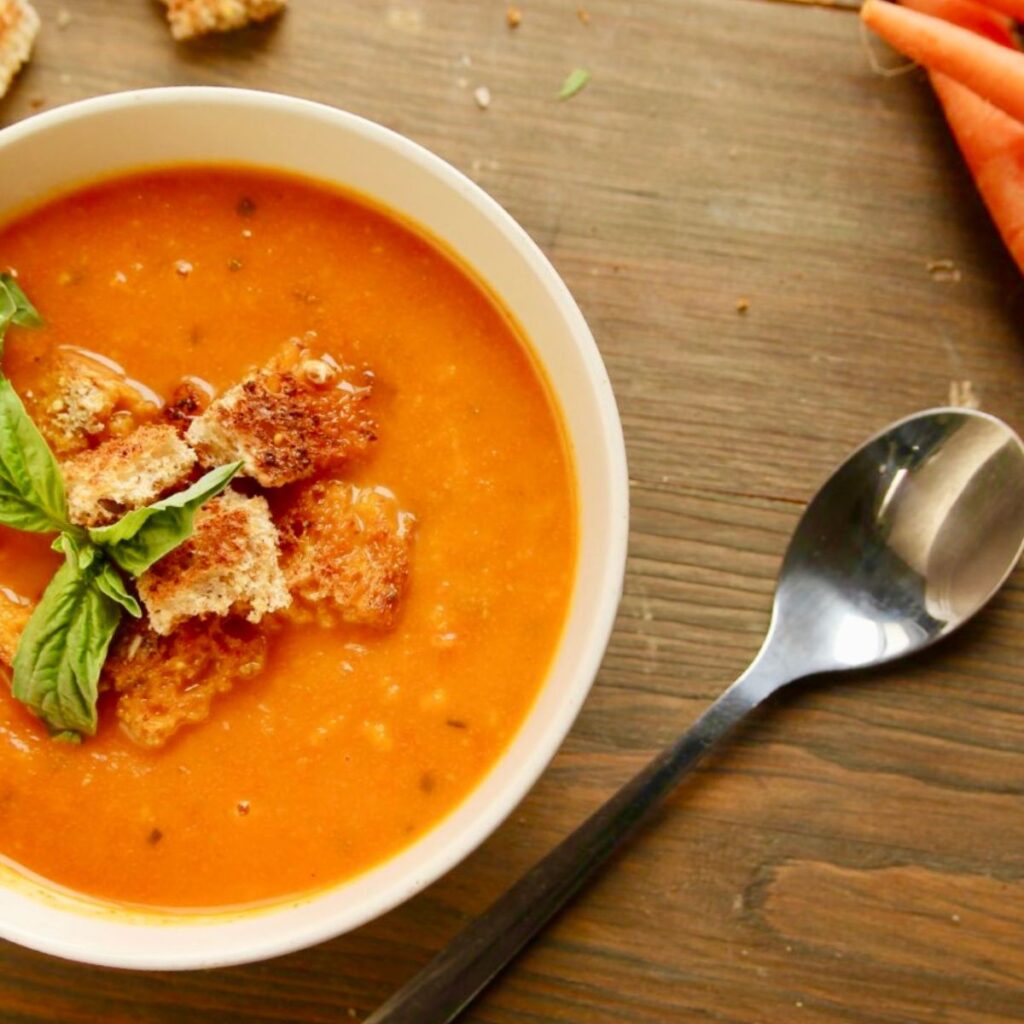 Irish Carrot Soup
I'm a huge fan of creamy soup. But not such a huge fan of the thick fatty cream that often makes said soup so delicious. But Irish Carrot Soup is a great example of how to get a flavorful and filling soup without the dairy.
Check out this recipe for Carrot and Coriander Soup that uses an immersion blender to puree the ingredients into a smooth and "creamy" soup.
Potato Leek Soup
During the Irish Potato Famine that occurred from 1845 to 1849, the Irish were forced to use potatoes as a base for many of their meals. One popular dish, Irish Potato Leek Soup was popular.
Not a fan of leeks? Looking for another potato-based soup to try? Try our potato corn chowder.
Irish Side Dishes (Cabbage)
Whether it's green cabbage or red cabbage. Whether you sauté it, stuff it, fry it, grill it, or slaw it. Cabbage is the bomb and the Irish have always known it. Here are some delicious Irish Cabbage recipes.
Sautéed Cabbage
In the U.S. we are obsessed with sautéing kale, but what about Sautéed Cabbage? If you haven't tried it, you must. sauté up some green cabbage with onions or leaks and watch the family flock to the dinner table.
Fried Cabbage
Fried Cabbage is next-level cabbage preparation and next-level taste and flavor. Fried Irish Cabbage with Bacon is a very traditional side dish you'll find across the country. Yes, bacon. Enough said?
Irish Coleslaw
Coleslaw might not be traditionally Irish, but Irish Style Coleslaw is plenty different than what you'd find in the states and so flavorful that it's rightly found a place on this list. Creamier and sweeter than its American counterpart, you'll not only find sour cream in this recipe but heavy cream and sugar as well. Tempted? We are!
Irish Side Dishes (Oysters)
So yes, Oysters aren't' exactly a side dish exactly. But oysters in Ireland are incredible. So this is less of a recipe and more of a call out that if you are ever in Ireland: Please don't not eat oysters. If you're a fan you will feel like you've died and gone to heaven. And if you're not usually, this is the best place on earth to try again.
Raw Oysters
Would I call oysters in the United States Irish? Probably not. But if you ever have the opportunity to go to Ireland: Eat. The. Oysters. You won't be disappointed. On our most recent trip to Ireland, I had, hands down, the best oysters I've ever eaten in my life. Don't believe me? Just look below.
Irish Main Dishes
Need an Irish main course to compliment one (or a few) of these Irish Side Dishes? Check out a few of our favorites below.
Mulligan Stew
Mulligan Stew is a hearty stew that should be in your main course rotation if it is not already. Mulligan Stew is also referred to as Mulligan's beef stew, Irish stew, community stew, and even hobo stew!
Beef and Guinness Pie
Nothing says Ireland more than Guinness. And no food is more delicious than a traditional Beef and Guinness Pie. One thing we learned in Ireland while we were there is that Guinness is actually low in gluten.
So if you're gluten-sensitive (like me) but hate to miss out, indulge in a pint, or make a delicious and savory Beef and Guinness Pie.
Corned Beef and Cabbage
There is pot roast and potatoes and then there is Corned Beef and Cabbage. Corned beef is cured in brine and then boiled. It's what gives it its unique salty and almost sour flavor. Once you've had it, you'll understand what all the fuss is about.
Pair with cabbage, some Champs, and a good pint of Guinness.
Shepherd's Pie
Nothing is more Irish than Shepherd's Pie. It's the ideal comfort food. The best thing about Shepherd's Pie is how fast it comes together, not to mention how easily it reheats.
Want a great twist on the original? Try Shepherd's Pie made with lamb and sweet potatoes. It's one of our favorites.
Irish Drinks ( For 21+ only!)
Have your Irish meal all planned out but need a drink (for the adults? We have a few Irish-inspired suggestions below.
Black 'n Black
A Black 'n Black is a popular Irish drink of Guinness and black currant concentrate.
It's great for those who love their Guinness, but are not such a fan of the bitter bite.
Irish Trash Can Drink
You can't have all of these tasty Irish side dishes without a tasty beverage. In the spirit of keeping with the theme of "Irish," I highly recommend the Irish Trash Can drink. Especially if you are looking to have a good time. Here is our Irish Trash Can Recipe that practically guarantees you a great time.
Irish Whiskey
There is a long history of Whiskey in Ireland. And hands down, some of the best whiskey comes from Ireland.
Not sure where to start when tasting? You can't go wrong with a bottle of Jameson. But if you're looking to learn more. Read through the article below to discover the world of Irish Whiskey.
Irish Side Dishes are a great complement to any meal, whether your meal is Irish or not. So even if today isn't St. Patrick's Day, explore a great country and get to know its people through their food.
Looking for more side dishes? Here are 23 side dishes that go perfectly with pork chops.
Have questions or suggestions? Leave them in the comments below. Until next time: Stay salty, and sweet 😉