This shop has been compensated by Collective Bias, Inc. and Conagra Brands. All opinions are mine alone. #DipForTheWin #CollectiveBias
If you are looking for the perfect Game Day Recipe to wow your guests, you have come to the right place! Our super simple yet fantastically delicious FOUR ingredient Kickin' BLT Dip will wow them all. With a creamy base, juicy RO*TEL tomatoes, salty bacon and a little kick from the green chilis, fans of all ages will keep coming back for more. My favorite part about this recipe is that it can be made up in just minutes, getting you right back to your tailgating/game day party. 
FOUR Ingredient Kickin' BLT Dip – Pin It For Later!
Friends – Football – Food! 
Football season is our favorite season! Some of you might call it Fall or Autumn, around here it is called football season! We love everything about this time of year, the cooler days and nights, the beautiful colors all around us, the tv asking us if WE are ready for some football every Sunday! There is nothing better than joining up with some great friends for a day of football and great food. I am still amazed every week with the new Game Day Recipe dishes that show up at our tailgating parties. One of the dishes that we can't go without is the Kickin' BLT Dip! 
Just FOUR Ingredients!! 
Like I mentioned above this delicious dip is so simple to make, you can have it ready in less than 10 minutes. The four main ingredients for our Kickin' BLT Dip is equal parts mayo & sour cream, crumbled bacon and RO*TEL® Original Diced Tomatoes and Green Chilies. RO*TEL tomatoes are my top pick for this recipe because they come in mild, medium and HOT. You can adjust the heat level to your liking just by switching out original for one of the more spicy varieties. (See full recipe below with a printable recipe card)
We found the RO*TEL tomato varieties right at our local Walmart store. In the same aisle as the rest of the tomato products right at the very beginning. You can find all of your tailgate decorating supplies there too. I have some fun decorating tips below for the perfect Game Day party! 
Since we are talking about RO*TEL, now would be a great time to mention the TOTALLY AWESOME Sweepstakes they are running right now! 
RO*TEL Dip For The Win SWEEPSTAKES!!
RO*TEL is giving away some incredible prizes in this sweepstakes! Grand Prize Winner will win a 55″ Smart TV, crock pot and $450 Walmart gift card. There will also be 3 weekly prizes to win a crock pot plus a $450 Walmart gift card.
The sweepstakes will be ending: 10/22/17 and Grand Prize Winner selected around 10/23/17 Be sure to enter RIGHT NOW!!
Game Day Recipe – Kickin' BLT Dip!
While this fabulous dip only calls for four ingredients, I love to jazz it up a bit and make it look pretty. You know what they say, you eat with your eyes first! You can serve this dip with chips or crackers and it will still be amazing. Personally, I like to serve mine in a freshly baked bread bowl, with chunks of crunchy dense bread on the side. When I say freshly baked bread, what I really mean is I bought a take and bake bread bowl from Walmart. 15 minutes in the oven and it is now "freshly baked". 
With a sharp knife remove the top of the bread and hollow out the center. Cut up the top and the center bread that you removed into bite-size pieces.
Even though this is called "BLT Dip" there isn't actually any lettuce in the dip. Laying a few pieces of leafy green lettuce inside the bread bowl before you fill it with the dip just adds to the presentation and now you have the "L" part of the BLT dip.
Game Day Table
Football Sundays might be all about the game, friends and the food, but I still like to decorate at least the food table. Here are a few helpful tips to make your food table stand out at any party.
Cover your table with a dark green plastic tablecloth. Using crepe paper, lay your stripes across your table to resemble the field.
Use black and white accessories, they will look great against the dark green tablecloth. See how I alternated the napkins to represent the referee uniforms. I love this idea! I did a version of this for a basketball party I had a while back also. 
Put your Game Day Recipe items around the table, at varying heights too. This will not only make things look pretty, it will make it easier for party goers to get to what they love easily. Notice the Kickin' BLT Dip is nice and high, so everyone can get to it easily. 
If you are a fan of Game Day Recipe hits, be sure to share this one with all your tailgating friends. It is super easy to make and is always a crowd pleaser. After you make it, be sure to let us know how you liked it. We love hearing from you! 
Don't forget to enter the RO*TEL Dip For The Win Sweepstakes!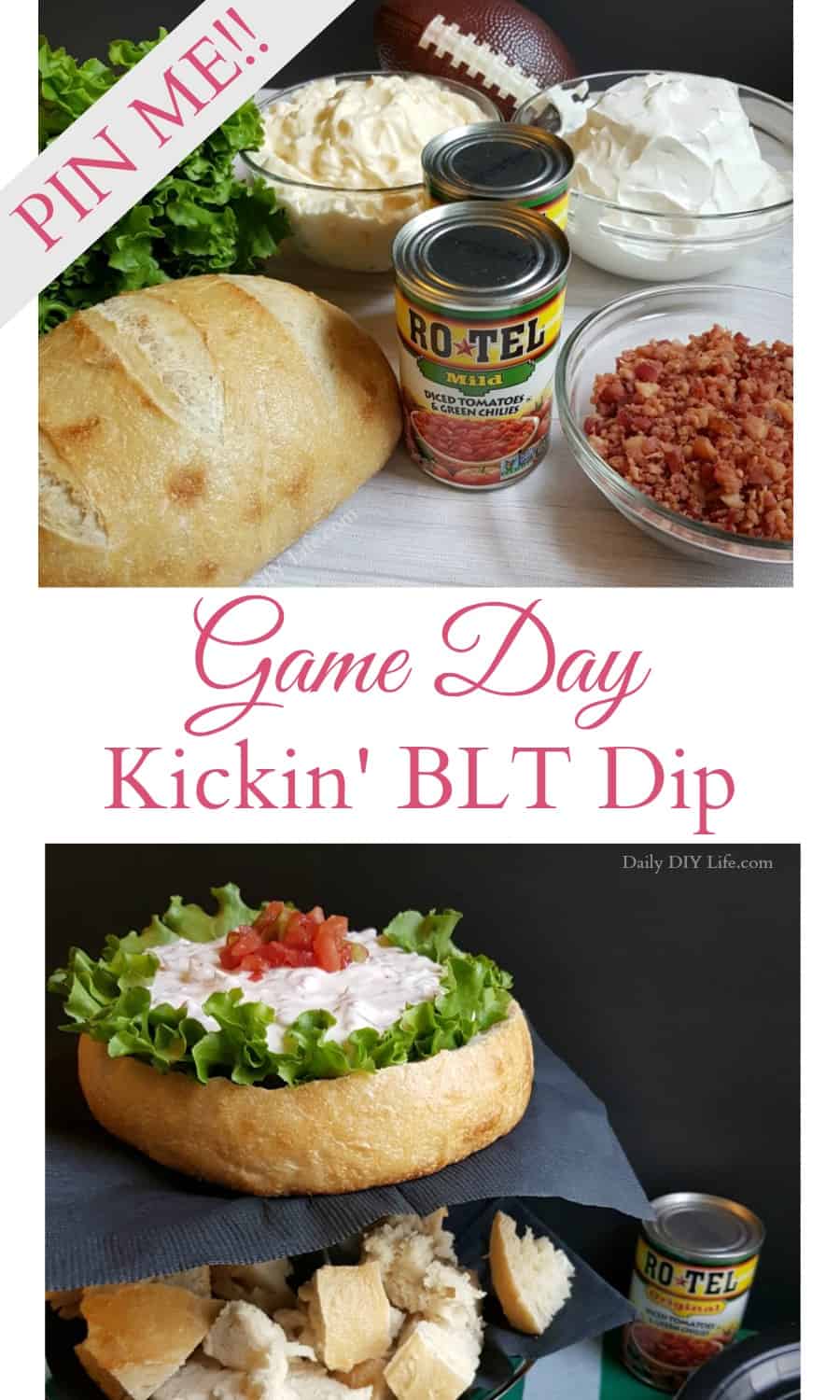 Game Day Recipe - Kickin' BLT Dip
Ingredients
4 Cups Mayonaise
4 Cups Sour Cream
2 Cups Crumbled Bacon (or 2 packages REAL bacon bits)
1 - 2 Cans RO*TEL® Original Diced Tomatoes and Green Chilies
For Presentation:
Green Leafy Lettuce
1 Take & Bake Bread Bowl from Walmart
Instructions
This recipe makes a large batch of dip. Perfect for your tailgating and game day parties! You can cut it in half if your party is on the smaller side.
Combine the mayonaise, sour cream, crumbled bacon and RO*TEL® Original Diced Tomatoes and Green Chilies
Mix Well, Serve chilled.
For presentation purposes:
Hollow out the freshly baked bread bowl. Be sure to leave the side walls to hold your dip.
Lay 2 to 3 pieces of leafy green lettuce inside your bread bowl.
Spoon the dip into the center of the lettuce. Refill as needed.