Beautiful Coastal Christmas Ornaments in a lovely sea blue with rustic natural twine are just the right touch to bring a bit of the beach to your holiday tree this year. Using simple supplies from the Dollar Tree, you can have these rustic elegant Christmas bulbs made in no time. If you are a lover of all things coastal, or beach decor at the holidays, you are going to love making these.
This post contains affiliate links for your convenience. That means that if you click on a link within this post and a purchase is made, I will receive a small commission at no extra cost to you. For details, please see our disclosure page.

Do You Love Dollar Tree Craft Projects?
Want more Dollar Tree projects? Stay tuned until the end of this post to see more fabulous Dollar Tree Christmas Crafts from some very talented bloggers!
Creating A Themed Christmas Tree
If you have been a reader of Daily DIY Life for any length of time, you may already know that I like to have a themed Christmas tree since the boys are older and I can have my way now! They still have their tree, the one with all the cute fun kid ornaments that they have made over the years, like their adorable Box Of Love.
This year, I will still be bringing out my farmhouse inspired Christmas tree at home. Complete with Mini Reverse Canvas Ornaments, Mini Galvanized Snow Buckets, and Rae Dunn Inspired Reindeer Ornaments.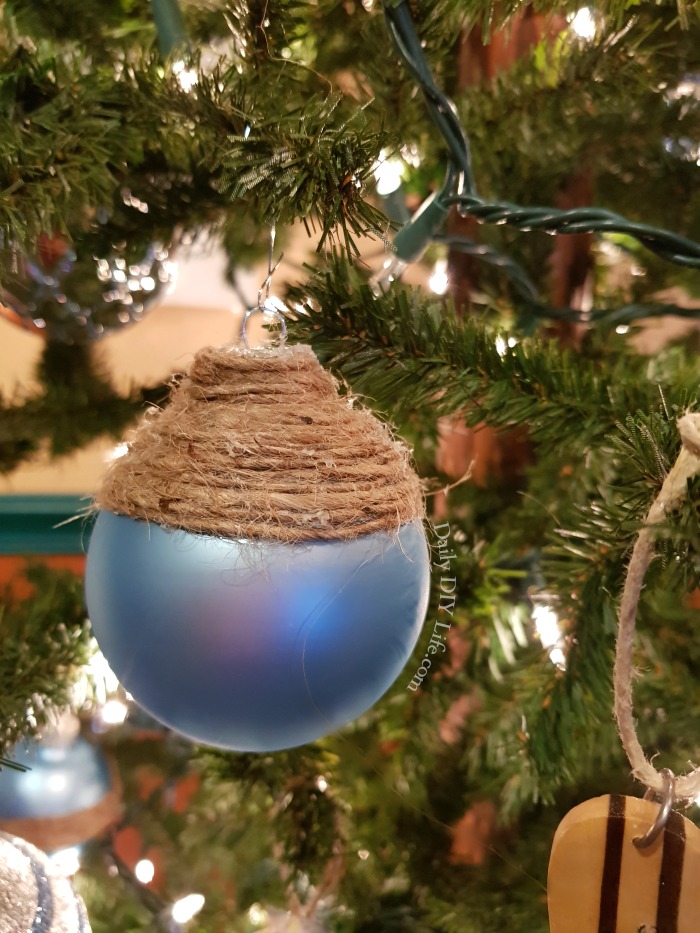 At work, however, I have decided to add a few inexpensive yet beautiful Coastal Christmas Ornaments to match the Caribbean theme. The process was super simple and took just a few minutes to update ornaments that I already had at home from years past, and give them an easy, yet elegant coastal theme.
How To Transform A Basic Ornament To A Coastal Ornament
If you are looking to transform ordinary, Christmas bulbs
into adorable, rustic coastal Christmas ornaments, there is one simple supply that you can use to achieve that look. Twine (or jute)
!
I decided to make three different Coastal Christmas Ornaments for our Caribbean work tree this year. The first one, I used the dollar tree twine to wrap the top half of the sea blue ornament. Similar to the way a water buoy would look. I used hot glue to keep the twine in place and continued to rap it up the neck of the ornament also.
The second design was even more simple than the first. I just wrapped the twine around the center of the ornament to add a little rustic contrast against the beautiful sea blue. This one might be the simplest design, but I do think it is my favorite. Again, I used hot glue to keep the twine in place.
For the third Coastal Christmas Ornaments, I found a bag of random seashells at the Dollar Tree. I added a small loop with the twine and added them randomly around the tree. Using shells, you can fill any empty spots, add a little bit of color and texture of the beach also. Super simple, and super coastal!

Dollar Store Divas Monthly Craft Hop!
Love Dollar Tree Craft Projects? I have teamed up with some very talented bloggers to bring you Dollar Tree Christmas Crafts. On the third Friday of the month, we get together to share exciting and creative Dollar Tree craft projects. Don't forget to sign up for our newsletter so you are notified when the new projects are shared. Take a look at all of the Christmas fabulousness below, then stop by each website for full details and project instructions. There is something for everyone, and who doesn't love a great Dollar Tree craft!?
Beverly from Across the Blvd Farmhouse Snowy Mini Tree
Michelle from Our Crafty Mom Adorable Dollar Store Christmas Gnome
Heather from Daily DIY Life Simple Coastal Christmas Ornaments
Michelle from Michelle James Designs Mason Jar Mini Ornaments
Love This Post? Don't forget to PIN IT FOR LATER!